LV8907UW: Sensorless Three-phase BLDC Motor Controller and Predriver, Automotive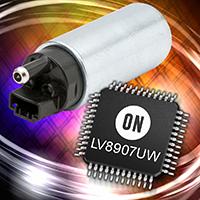 The LV8907 is a high performance, sensorless three-phase BLDC motor controller with predrivers for automotive applications. An integrated two-stage charge pump provides gate current for a wide range of ultra low RDS(ON) NFETs. The device offers a rich set of system protection and diagnostic functions such as over-current, over-voltage, short-circuit, under-voltage, over-temperature and many more. It supports open-loop as well as closed-loop speed control with user configurable startup, speed setting and proportional/integral (PI) control coefficients, making it suitable for a wide range of motor and load combinations. With an in-built linear regulator for powering an external circuit, a watchdog timer and a Local Interconnect Network (LIN) transceiver, the LV8907 offers the smallest system solution footprint. An SPI interface is provided for parameter setting and monitoring the system health. With the operating junction temperature tolerance up to 175°C and electrically LIN compatible control signals (PWM and Enable), the LV8907 is an ideal solution for stand-alone BLDC motor control systems.
Features
Benefits

Operating junction temperature up to 175°C

Operating voltage range from 5.5 V to 20 V with tolerance from 4.5 V to 40 V

Embedded proprietary sensor-less commutation control

Reduced BOM and development work

In-built LIN transceiver and Watchdog timer

Connectivity with automotive network system

SPI interface for real-time parameterization and diagnostic

Optional capability for micro-processor

Various system protection features including:
♦ Shoot through protection using configurable dead-time
♦ Drain-source short detection
♦ Cycle-by-cycle current limit and over-current shutdown
♦ Over-voltage and under-voltage shutdown
♦ Over-temperature warning and shutdown
♦ Input PWM fault detection

Reliable and robust systems

Configurable speed setting and PI control coefficients

Wide application range with high flexibility

Supports open-loop as well as closed-loop speed control

Integrated 5 V/3.3 V regulator output for external circuit

Integrated predrivers for driving six N-MOSFETs

Two-stage charge pump for continuous 100% duty-cycle operation

AEC−Q100 Qualified and PPAP Capable
Applications
End Products

Pumps (fuel, oil, coolant, hydraulic controls, vacuum, ...)
Fans and Blowers (HVAC, radiator, condenser, battery, inverter, charger, ...)
Actuators in Automated Positioning Applications
Compressors

Cars, Boats, Trains,...
Building Automation (ventilation, heating system, solar boiler, automated doors & shutters, ...)
Industrial Equipment
White Goods
Technical Documentation & Design Resources
Evaluation/Development Tool Information
| Product | Status | Compliance | Short Description | Action |
| --- | --- | --- | --- | --- |
| BLDC-GEVK | Active | | Internet of Things (IOT) BLDC Motor Driver Shield Evaluation Kit | |
| LV8907UWGEVK | Active | | Sensor-less Three-phase Brushless DC Motor Controller, with Gate Drivers, for Automotive Evaluation Kit | |
| | | | | |
| --- | --- | --- | --- | --- |
| | | | | Interactive Block Diagram |
Case Outline
LV8907UWR2G
Active

AEC Qualified
PPAP Capable
Pb-free
Halide free

LV8907UW
SQFP-48K
131AN
3
260
Tape and Reel
2500
$13.333
| | | |
| --- | --- | --- |
| Market Leadtime (weeks) | : | Contact Factory |
Product
Description
Pricing ($/Unit)
Compliance
Status
Phase
VM Min (V)
VM Max (V)
VCC Min (V)
VCC Max (V)
IO Max (A)
IO Peak Max (A)
Control Type
Package Type
LV8907UWR2G
$13.333
Active
Case Outlines
131AN
Packages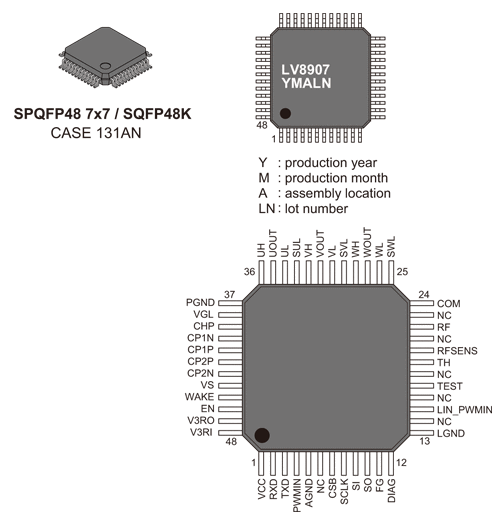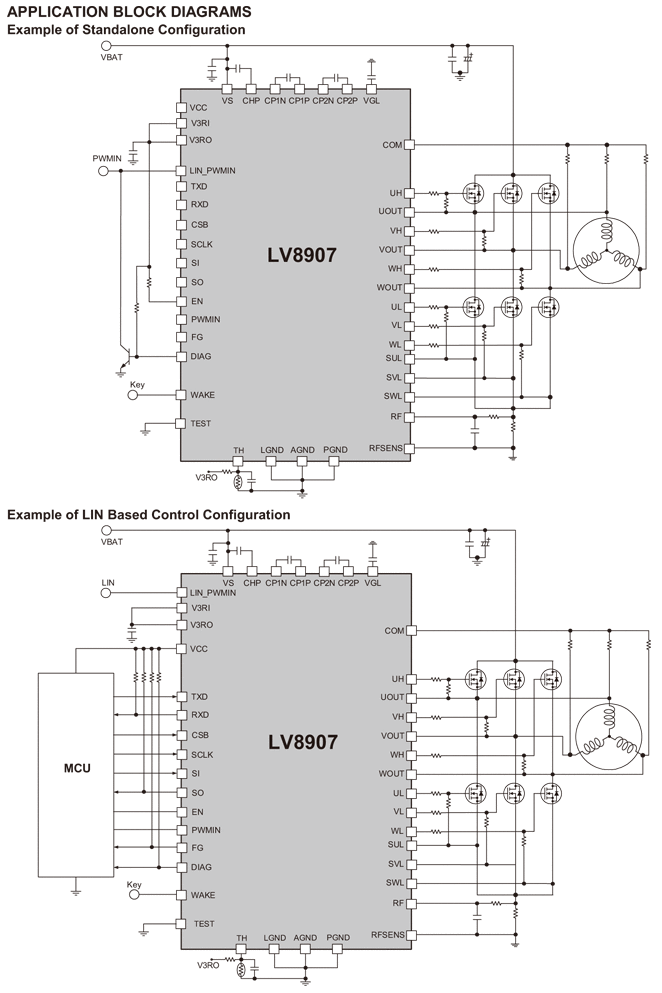 Application
Diagram - Block
Your request has been submitted for approval.
Please allow 2-5 business days for a response.
You will receive an email when your request is approved.
Request for this document already exists and is waiting for approval.