EZAIRO 8300: High-End Audio DSP for Wireless-Enabled Hearing-Aids and Hearables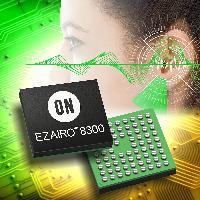 Ezairo 8300 is an advanced audio processor with 6 programmable or semi-programmable processing cores, providing a high degree of parallelism and flexibility. Its high fidelity operation at ultra-low power consumption, along with its multiple interfaces, flexibility to maximize performance against power consumption, and support for Bluetooth® Low Energy connectivity make Ezairo 8300 an excellent choice for high-end wireless-enabled audio applications.
Development Tools
The Open-Programmable Evaluation & Development Kit (EDK) for Ezairo 8300 is available on a subscription basis with options for 2, 5 or 10 seats.
Please contact your Sales Representative or Authorized distributor for more information.
Features
Benefits

6 programmable and configurable processing cores

High degree of parallelism and flexibility

Ultra-low power consumption of <0.7 mA @ 15.24 MHz system clock

High fidelity audio system with 108 dB system dynamic range and up to 48 kHz of sampling frequency

Dynamically selectable system clock speeds from 1.28 MHz to 61.44 MHz

Maximum flexibility to optimize computing performance against power consumption

Versatile memory architecture for the 1433 kB of memory

Flexible sharing between the 6 cores for maximum system efficiency
Applications
End Products

High-resolution stereo audio streaming
Intensive audio processing
ULP companion chip for Bluetooth Audio

Wireless-Enabled Hearing Aids
Earbuds / Hearables
Personal Sound Amplification Products (PSAPs)
Over-the-Counter (OTC) Hearing Aids
Headsets / Headphones
Technical Documentation & Design Resources
Evaluation/Development Tool Information
| Product | Status | Compliance | Short Description | Action |
| --- | --- | --- | --- | --- |
| E8300-001-GEVB | Active | | Ezairo 8300: High-End Audio DSP for Wireless-Enabled Hearing Aids and Hearables | |
Case Outline
E8300-101B78-ABG
Active
EZAIRO 8300, Bare Die (Pb-Free), 5000 / Tape and Reel
VFBGA78 5x5
138AW
3
260
Tape and Reel
5000
Contact Sales Office
E8300-101WC78-ABG
Active
EZAIRO 8300, VFBGA
WLCSP87 2.643x3.053x0.354
567ZN
1
260
Tape and Reel
5000
Contact Sales Office
| | | |
| --- | --- | --- |
| Market Leadtime (weeks) | : | Contact Factory |
| | | |
| --- | --- | --- |
| Market Leadtime (weeks) | : | Contact Factory |
Product
Description
Pricing ($/Unit)
Compliance
Status
WDRC Channels
Graphic EQ Bands
Program Modes
Advanced Algorithms
Acoustic Indicators
Other Features
Wireless Standards
Package Type
E8300-101WC78-ABG
Active
WLCSP87 2.643x3.053x0.354