The document you are trying to download is gated.
Log into MyON to proceed.
NB100LVEP91: Translator, AnyLevel™ Positive Input to NECL Output Voltage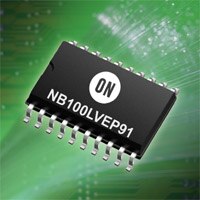 The NB100LVEP91 is a triple input to NECL output translator. The device accepts LVPECL, LVTTL, HSTL, CML or LVDS signals, and translates them to differential -2.5 V / -3.3 V NECL output signals.

To accomplish the level translation, the LVEP91 requires three power rails. The VCC supply should be connected to the positive supply, and the VEE pin should be connected to the negative power supply. The GNDI pins are connected to the system ground plane. Both VEE and VCC should be bypassed to ground via 0.01 uF capacitors.

Under open input conditions, the Dbar input will be biased at VCC/2 and the D input will be pulled to GND. This condition will force the Q output to a low, ensuring stability.

The VBB pin, an internally generated voltage supply, is available to this device only. For single-ended input conditions, the unused differential input is connected to VBB as a switching reference voltage. VBB may also rebias AC coupled inputs. When used, decouple VBB and VCC via a 0.01 uF capacitor and limit current sourcing or sinking to 0.5 mA. When not used, VBB should be left open.

Features
Benefits

Typical Maximum Frequency >2 GHz

430 ps Typical Propagation Delay

Operating Range: VCC = 2.375 V to 3.8 V; VEE = -2.375 V to -3.8 V; GNDI = 0 V

Q Output will default LOW with Inputs Open or at GND

Pb-Free Packages are Available
Technical Documentation & Design Resources
| | | |
| --- | --- | --- |
| Market Leadtime (weeks) | : | 2 to 4 |
| ON Semiconductor (2020-09-02 00:00) | : | 3,040 |
| | | |
| --- | --- | --- |
| Market Leadtime (weeks) | : | Contact Factory |
| | | |
| --- | --- | --- |
| Market Leadtime (weeks) | : | 4 to 8 |
| FutureElectronics (2020-08-19 00:00) | : | <100 |
| PandS (2020-09-14 00:00) | : | <100 |
Product
Description
Pricing ($/Unit)
Compliance
Status
Channels
Input Level
Output Level
VCC Typ (V)
fMax Typ (MHz)
tpd Typ (ns)
tR & tF Max (ps)
Package Type