The document you are trying to download is gated.
Log into MyON to proceed.
NB6L572M: 2.5 V / 3.3 V Differential 4:1 Mux to 1:2 CML Clock/Data Fanout / Translator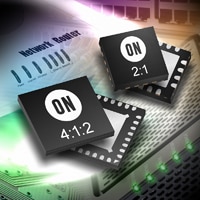 The NB6L572M is a high performance differential 4:1 Clock / Data input multiplexer and a 1:2 CML Clock / Data fanout buffer that operates up to 6GHz / 8Gbps respectively with a 2.5V or 3.3V power supply. The differential Clock / Data inputs have internal 50-ohm termination resistors and will accept differential LVPECL, CML, or LVDS logic levels. The NB6L572M incorporates a pair of Select pins that will choose one of four differential inputs and will produce two identical CML output copies of Clock or Data. As such, the NB6L572M is ideal for SONET, GigE, Fiber Channel, Backplane and other Clock/Data distribution applications. The two differential CML outputs will swing 400mV when externally loaded and terminated with a 50-ohm resistor to VCC and are optimized for low skew and minimal jitter. The NB6L572M is offered in a low profile 5x5mm 32-pin QFN Pb-Free package. Application notes, models, and support documentation are available at www.onsemi.com. The NB6L572M is a member of the ECLinPS MAX family of high performance clock products.
Features

Input Data Rate > 8 Gb/s Typical

Data Dependent Jitter < 10 ps

Maximum Input Clock Frequency > 6 GHz Typical

Random Clock Jitter < 0.8 ps RMS

Low Skew 1:2 CML Outputs, < 15 ps max

4:1 Multi-Level Mux Inputs, accepts LVPECL, CML, LVDS

200 ps Typical Propagation Delay

35 ps Typical Rise and Fall Times

Differential CML Outputs, 400 mV Peak-to-Peak, Typical

Operating Range: VCC = 2.375 V to 3.6 V with GND = 0 V

Internal 50-ohm Input Termination Resistors

-40C to +85C Ambient Operating Temperature
Applications
End Products

Switch/Router
Servers
Backplanes
DSLAM

Networking
Workstations
ATE
Technical Documentation & Design Resources
| | | |
| --- | --- | --- |
| Market Leadtime (weeks) | : | 4 to 8 |
| | | |
| --- | --- | --- |
| Market Leadtime (weeks) | : | Contact Factory |
Product
Description
Pricing ($/Unit)
Compliance
Status
Input/Output Ratio
Channels
Input Level
Output Level
VCC Typ (V)
fMax Typ (MHz)
tJitter Typ (ps)
tskew(OO) Max (ps)
tpd Typ (ns)
Package Type