The document you are trying to download is gated.
Log into MyON to proceed.
STK5Q4U362J-E: Intelligent Power Module (IPM), 600 V, 10 A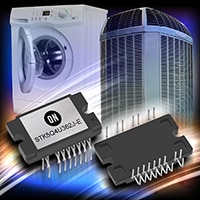 The STK5Q4U362J-E is a fully-integrated inverter power stage consisting of a high-voltage driver, six IGBT's and a thermistor, suitable for driving permanent magnet synchronous (PMSM) motors, brushless-DC (BLDC) motors and AC asynchronous motors. The IGBT's are configured in a 3-phase bridge with separate emitter connections for the lower legs for maximum flexibility in the choice of control algorithm. The power stage has a full range of protection functions including cross-conduction protection, external shutdown and under-voltage lockout functions. An internal comparator and reference connected to the over-current protection circuit allows the designer to set the over-current protection level.
Features
Benefits

Three-phase 10 A / 600 V IGBT module with integrated drivers using DBC substrate for lower thermal resistance

Compact motion control system with low EMI, low losses and simple cooling

Typical values: VCE(sat) = 1.8 V, VF = 1.5 V, ESW = 390 µJ at 10 A

Optimized for 10 A / 15 kHz applications

Compact 29.6 mm x 18.2 mm dual in-line package

Compact package with easy cooling

Cross-conduction protection

Robust operation under fault conditions

Adjustable over-current protection level

Robust operation under fault conditions

Integrated bootstrap diodes and resistors

Reduced external component count and layout size

Robust operation under fault conditions

Module temperature measurement required in most industrial applications
Applications
End Products

Industrial HVAC
Industrial Automation
Major Home Appliances

Industrial Fans
Industrial Pumps
Compressors
Clothes Washers
Refrigerators
Industrial Automation
Technical Documentation & Design Resources
Case Outline
STK5Q4U362J-E
Active, Not Rec
STK5Q4U362J-E
DIP-S3
MODBL
NA
Tube
16
$7.3332
| | | |
| --- | --- | --- |
| Market Leadtime (weeks) | : | 8 to 12 |
| ON Semiconductor (2020-09-02 00:00) | : | 943 |