AMIS-30623: Microstepping Motor Driver and Controller with LIN Bus and Stall Detection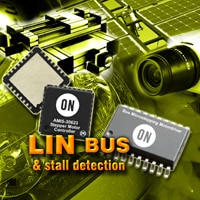 The AMIS-30623 is a single-chip microstepping motor driver with position controller and control/diagnostic interface. It is ready to build dedicated mechatronics solutions connected remotely with a LIN master.
The device receives positioning instructions through the bus and subsequently drives the motor coils to the desired position. The on-chip position controller is configurable (OTP or RAM) for different motor types, positioning ranges and parameters for speed, acceleration and deceleration. The advanced motion qualification mode enables verification of the complete mechanical system in function of the selected motion parameters. The AMIS-30623 acts as a slave on the LIN bus and the master can fetch specific status information like actual position, error flags, etc. from each individual slave node.
An integrated sensorless step-loss detection prevents the positioner from loosing steps and stops the motor when running into stall. This enables silent, yet accurate position calibrations during a referencing run and allows semi-closed loop operation when approaching the mechanical end-stops.
The chip is implemented in I2T100 technology, enabling both high voltage analog circuitry and digital functionality on the same chip. The AMIS-30623 is fully compatible with the automotive voltage requirements.
Features

Sensorless step-loss detection

Automatic selection of fast and slow decay mode

No external flyback diodes required

Configurable speeds and acceleration

Field programmable node addresses

Dynamically allocated identifiers

Both physical and data-link layers (conform to LIN rev. 1.3)

LIN bus short circuit protection to supply and ground

High temp warning and management

Micro-stepping technology

Peak current up to 800 mA

Fixed frequency PWM current control

Automatic selection of fast and slow decay mode

No external flyback diodes required

Compliant with 14 V automotive systems and industrial systems up to 24 V

Motion qualification mode
Applications
End Products

Automotive
Surveillance
Building automation
Distribution
Machine tools
Experiment automation, pipette control

Entertainment

HVAC and headlamp leveling and bending actuators
Camera positioning
HVAC, air-duct valves, radiator water-flow valves, green-house thermal management, venetian blinds
Robots, inspection tools, assembly, testing tools, dispensers, valves, pumps, feeders, printers
Vending machines, sorting machines, warehouse automation
Micro-dosing pumps
Slot machines, event lighting, television satellite dish, toys, android robot
Technical Documentation & Design Resources
Evaluation/Development Tool Information
| Product | Status | Compliance | Short Description | Action |
| --- | --- | --- | --- | --- |
| AM306238R1DBGEVB | Active | | Daughterboard LIN Stepper Driver with Stall Detection (SOIC) Evaulation Board | |
Case Outline
AMIS30623C6238G
Lifetime

AEC Qualified
PPAP Capable
Pb-free
Halide free

AMIS-30623, Automotive Version
SOIC-8 NB
751
2
260
Tube
38
$3.5459
AMIS30623C6238RG
Lifetime

AEC Qualified
PPAP Capable
Pb-free
Halide free

AMIS-30623, Automotive Version
SOIC-8 NB
751
2
260
Tape and Reel
1500
$3.5459
AMIS30623C623ARG
Obsolete
AMIS-30623
NQFP-32
560AA
3
260
Tape and Reel
2500
| | | |
| --- | --- | --- |
| Market Leadtime (weeks) | : | Contact Factory |
| PandS (2020-09-14) | : | <100 |
| | | |
| --- | --- | --- |
| Market Leadtime (weeks) | : | Contact Factory |
| | | |
| --- | --- | --- |
| Market Leadtime (weeks) | : | Contact Factory |
Application
Diagram - Block