NCP612: LDO Regulator, 100 mA, Low Iq
The NCP612 Low Quiescent Current Low Dropout (LDO) Linear Voltage Regulator is designed for handheld communication equipment and portable battery powered applications which require low quiescent. The NCP612 series features an ultra-low quiescent current of 40μA. Each device contains a voltage reference unit, an error amplifier, a PMOS power transistor, resistors for setting output voltage, current limit, and temperature limit protection circuits.

The NCP612 has been designed to be used with low cost ceramic capacitors. The device is housed in the micro-miniature SC70-5 surface mount package. Standard voltage versions are 1.5, 1.8, 2.5, 2.7, 2.8, 3.0, 3.3, and 5.0 V.
Features

Low Quiescent Current of 40 A Typical

Low Dropout Voltage of 250 mV at 80 mA

Low Output Voltage Option

Output Voltage Accuracy of 2.0%

NCP Series Temperature Range of -40°C to 85°C

NCV Series Temperature Range of -40°C to 125°C
Applications
Cellular Phones
Battery Powered Consumer Products
HandHeld Instruments
Technical Documentation & Design Resources
Case Outline
NCP612SQ15T2G
Active
NCP612, Vout: 1.5 V
SC-88A / SC-70-5
419A-02
1
260
Tape and Reel
3000
$0.24
NCP612SQ18T2G
Active
NCP612, Vout: 1.8 V
SC-88A / SC-70-5
419A-02
1
260
Tape and Reel
3000
$0.1467
NCP612SQ25T2G
Active
NCP612, Vout: 2.5 V
SC-88A / SC-70-5
419A-02
1
260
Tape and Reel
3000
$0.24
NCP612SQ27T2G
Active
NCP612, Vout: 2.7 V
SC-88A / SC-70-5
419A-02
1
260
Tape and Reel
3000
$0.24
NCP612SQ28T2G
Active
NCP612, Vout: 2.8 V
SC-88A / SC-70-5
419A-02
1
260
Tape and Reel
3000
$0.2319
NCP612SQ30T2G
Active
NCP612, Vout: 3.0 V
SC-88A / SC-70-5
419A-02
1
260
Tape and Reel
3000
$0.2203
NCP612SQ31T2G
Active
NCP612, Vout: 3.1 V
SC-88A / SC-70-5
419A-02
1
260
Tape and Reel
3000
$0.24
NCP612SQ33T2G
Active
NCP612, Vout: 3.3 V
SC-88A / SC-70-5
419A-02
1
260
Tape and Reel
3000
$0.2319
NCP612SQ37T2G
Active
NCP612, Vout: 3.7 V
SC-88A / SC-70-5
419A-02
1
260
Tape and Reel
3000
$0.2319
NCP612SQ50T2G
Active
NCP612, Vout: 5.0 V
SC-88A / SC-70-5
419A-02
1
260
Tape and Reel
3000
$0.2319
| | | |
| --- | --- | --- |
| Market Leadtime (weeks) | : | 4 to 8 |
| ON Semiconductor (2020-09-02 00:00) | : | 18,000 |
| | | |
| --- | --- | --- |
| Market Leadtime (weeks) | : | 4 to 8 |
| ON Semiconductor (2020-09-02 00:00) | : | 87,000 |
| | | |
| --- | --- | --- |
| Market Leadtime (weeks) | : | 4 to 8 |
| ON Semiconductor (2020-09-02 00:00) | : | 24,000 |
| | | |
| --- | --- | --- |
| Market Leadtime (weeks) | : | 4 to 8 |
| ON Semiconductor (2020-09-02 00:00) | : | 24,000 |
| | | |
| --- | --- | --- |
| Market Leadtime (weeks) | : | 2 to 4 |
| ON Semiconductor (2020-09-02 00:00) | : | 21,000 |
| | | |
| --- | --- | --- |
| Market Leadtime (weeks) | : | 8 to 12 |
| | | |
| --- | --- | --- |
| Market Leadtime (weeks) | : | 8 to 12 |
| | | |
| --- | --- | --- |
| Market Leadtime (weeks) | : | 2 to 4 |
| ON Semiconductor (2020-09-02 00:00) | : | 6,000 |
| PandS (2020-09-14 00:00) | : | >1K |
| | | |
| --- | --- | --- |
| Market Leadtime (weeks) | : | 2 to 4 |
| ON Semiconductor (2020-09-02 00:00) | : | 27,000 |
| PandS (2020-09-14 00:00) | : | >1K |
| | | |
| --- | --- | --- |
| Market Leadtime (weeks) | : | 2 to 4 |
| ON Semiconductor (2020-09-02 00:00) | : | 27,000 |
Product
Description
Pricing ($/Unit)
Compliance
Status
Output
Polarity
VO (V)
IO Typ (A)
VI Min (V)
VI Max (V)
VDO Typ (V)
Iq Typ (mA)
PSRR (dB)
Noise (µVrms)
Enable
PowerGood
Application
Package Type
Case Outlines
419A-02
Packages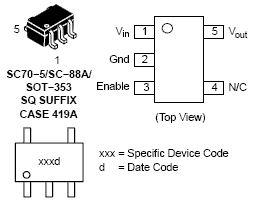 New Products
NCV8187
:
1.2 A LDO Regulator
Low Iq of 30 µA typical over full temperature range
High PSRR of 85 dB at 1 kHz for power stability
Low noise of 9 µV(RMS)
NCV8730
:
150 mA LDO Regulator
Low quiescent current of 1 µA typical, and shutdown current of 100 nA typical
Wide operating input voltage range of 2.7 to 38 V
Low dropout of 290 mV typical @ 150 mA, 3.3 V