The document you are trying to download is gated.
Log into MyON to proceed.
NCP3334: LDO Regulator, 500 mA, Low Iq
The NCP3334 is a high performance, low dropout (LDO) linear voltage regulator. With accuracy of +/-0.9% over line and load and ultra-low quiescent current and noise it encompasses all of the necessary features required by today's consumer electronics. This unique device is guaranteed to be stable without a minimum load current requirement and stable with any type of capacitor as small as 1.0 µF. The NCP3334 offers reverse bias protection.
Features

High Accuracy Over Line and Load (±0.9% at 25°C)

Low Dropout Voltage of 340 mV maximum at 500 mA

Low Shutdown Current (0.07 µA)

2.6 V to 12 V Supply Range

Thermal Shutdown Protection

Requires only 1.0 uF Output Capacitance for Stability

Stable with any type of capacitor, including MLCC

No Minimum Output Current Required for Stability
Applications
PCMCIA Card
Cellular Phones
Camcoders and Cameras
Networking Systems, DSL/Cable Modems
Cable Set-Top Box
MP3/CD Players
Displays and Monitors
Technical Documentation & Design Resources
Case Outline
NCP3334DADJG
Active
NCP3334
SOIC-8
751-07
1
260
Tube
98
$0.3971
NCP3334DADJR2G
Active
NCP3334
SOIC-8
751-07
1
260
Tape and Reel
2500
$0.3019
| | | |
| --- | --- | --- |
| Market Leadtime (weeks) | : | 2 to 4 |
| ON Semiconductor (2020-09-02 00:00) | : | 7,154 |
| | | |
| --- | --- | --- |
| Market Leadtime (weeks) | : | 8 to 12 |
| Avnet (2020-08-19 00:00) | : | >10K |
| PandS (2020-09-14 00:00) | : | >1K |
Product
Description
Pricing ($/Unit)
Compliance
Status
Output
Polarity
VO (V)
IO Typ (A)
VI Min (V)
VI Max (V)
VDO Typ (V)
Iq Typ (mA)
PSRR (dB)
Noise (µVrms)
Enable
PowerGood
Application
Package Type
Case Outlines
751-07
Packages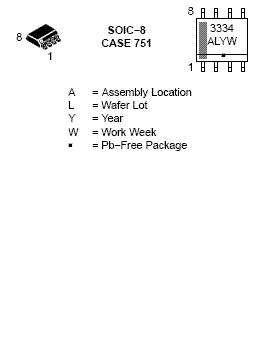 New Products
NCV8730
:
150 mA LDO Regulator
Low quiescent current of 1 µA typical, and shutdown current of 100 nA typical
Wide operating input voltage range of 2.7 to 38 V
Low dropout of 290 mV typical @ 150 mA, 3.3 V
NCV8187
:
1.2 A LDO Regulator
Low Iq of 30 µA typical over full temperature range
High PSRR of 85 dB at 1 kHz for power stability
Low noise of 9 µV(RMS)