The document you are trying to download is gated.
Log into MyON to proceed.
NCV8141: Linear Voltage Regulator, 500 mA, 5 V, High PSRR
The NCV8141 is a linear regulator suited for microprocessor applications in automotive environments.
This ON Semiconductor part provides the power for the microprocessors along with many of the control functions needed in todays computer based systems.
Incorporating all of these features saves both cost, and board space.
The NCV8141 provides a low sleep mode current as compared to the CS8141.
Consult your local sales representative for a low sleep mode current version of the CS8140.
Features

5.0V 3%, 500mA Output Voltage

60V Peak Transient Voltage

NCV Prefix for Automotive and Other Applications requiring site and Change Control

Pb-Free Packages are Available
Technical Documentation & Design Resources
Case Outline
NCV8141D2TG
Last Shipments

AEC Qualified
PPAP Capable
Pb-free
Halide free

Linear Voltage Regulator, 500 mA, 5 V, High PSRR, 5.0 V
D2PAK-7
936AB
3
260
Tube
50
NCV8141D2TR4G
Active

AEC Qualified
PPAP Capable
Pb-free
Halide free

Linear Voltage Regulator, 500 mA, 5 V, High PSRR, 5.0 V
D2PAK-7
936AB
3
260
Tape and Reel
750
$1.8666
NCV8141D2T
Obsolete

AEC Qualified
PPAP Capable

Linear Voltage Regulator, 500 mA, 5 V, High PSRR, 5.0 V
D2PAK-7
936AB
2
235
Tube
50
NCV8141D2TR4
Obsolete

AEC Qualified
PPAP Capable

Linear Voltage Regulator, 500 mA, 5 V, High PSRR, 5.0 V
D2PAK-7
936AB
2
235
Tape and Reel
750
| | | |
| --- | --- | --- |
| Market Leadtime (weeks) | : | Contact Factory |
| PandS (2020-07-14 00:00) | : | <100 |
| | | |
| --- | --- | --- |
| Market Leadtime (weeks) | : | 2 to 4 |
| ON Semiconductor (2020-07-11 00:00) | : | 18,750 |
| PandS (2020-07-14 00:00) | : | >1K |
| | | |
| --- | --- | --- |
| Market Leadtime (weeks) | : | Contact Factory |
| | | |
| --- | --- | --- |
| Market Leadtime (weeks) | : | Contact Factory |
Product
Description
Pricing ($/Unit)
Compliance
Status
Output
Polarity
VO (V)
IO Typ (A)
VI Min (V)
VI Max (V)
VDO Typ (V)
Iq Typ (mA)
PSRR (dB)
Noise (µVrms)
Enable
PowerGood
Package Type
NCV8141D2TR4G
$1.8666
Active
Case Outlines
936AB
Packages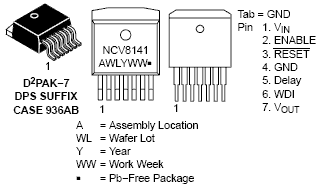 New Products
NCV8187
:
1.2 A LDO Regulator
Low Iq of 30 µA typical over full temperature range
High PSRR of 85 dB at 1 kHz for power stability
Low noise of 9 µV(RMS)
NCV8730
:
150 mA LDO Regulator
Low quiescent current of 1 µA typical, and shutdown current of 100 nA typical
Wide operating input voltage range of 2.7 to 38 V
Low dropout of 290 mV typical @ 150 mA, 3.3 V