The document you are trying to download is gated.
Log into MyON to proceed.
NCV4299: Linear Voltage Regulator, LDO, 150 mA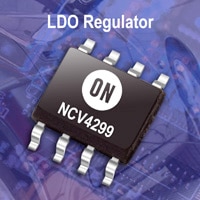 The NCV4299 is a 150 mA precision micropower voltage regulator available with output voltages of 3.3 and 5.0 V. It is available in an 8−lead SON and in a 14−lead SON (fused) package. The output voltage is accurate within ±2% with a maximum dropout voltage of 0.5 V at 100 mA for the 5.0 V version. The NCV4299 features low quiescent current of only 90 µA with a 1 mA load.

The device features an adjustable reset output and an adjustable system monitor to provide shutdown early warning. The 14L version includes an inhibit function to turn the device off while consuming less than 1.0 µA of quiescent current.
Features
Benefits

3.3 or 5.0 V, +/-2%, 150 mA

Low Current Consumption 90 uA (Typ) in the ON Mode
Extremely Low Current Consumption 1.0 uA in the Off Mode

Early Warning Output Capability

Microprocessor power management feature, design flexibility

Adjustable Reset Threshold and Reset Output Low Down to VQ = 1.0 V

Microprocessor power management feature, design flexibility

Fault protection:
60 V peak Transient Voltage protection
-40 V Reverse Input Voltage protection
Short circuit protection
Thermal overload protection

No external components required to enable protections required within any automotive applications
Applications
End Products

Body and Chassis
Powertrain, Engine Control Unit
Infotainment
Technical Documentation & Design Resources
Case Outline
NCV4299D1G
Obsolete

AEC Qualified
PPAP Capable
Pb-free
Halide free

Linear Voltage Regulator, LDO, 150 mA, 5.0 V
SOIC-8
751-07
1
260
Tube
98
NCV4299D1R2G
Active, Not Rec

AEC Qualified
PPAP Capable
Pb-free
Halide free

Linear Voltage Regulator, LDO, 150 mA, 5.0 V
SOIC-8
751-07
1
260
Tape and Reel
2500
$0.7356
NCV4299D233G
Obsolete

AEC Qualified
PPAP Capable
Pb-free
Halide free

Linear Voltage Regulator, LDO, 150 mA, 3.3 V
SOIC-14
751A-03
1
260
Tube
55
NCV4299D233R2G
Active, Not Rec

AEC Qualified
PPAP Capable
Pb-free
Halide free

Linear Voltage Regulator, LDO, 150 mA, 3.3 V
SOIC-14
751A-03
1
260
Tape and Reel
2500
$0.7944
NCV4299D2G
Obsolete

AEC Qualified
PPAP Capable
Pb-free
Halide free

Linear Voltage Regulator, LDO, 150 mA, 5.0 V
SOIC-14
751A-03
1
260
Tube
55
NCV4299D2R2G
Obsolete

AEC Qualified
PPAP Capable
Pb-free
Halide free

Linear Voltage Regulator, LDO, 150 mA, 5.0 V
SOIC-14
751A-03
1
260
Tape and Reel
2500
NCV4299D1
Obsolete

AEC Qualified
PPAP Capable

Linear Voltage Regulator, LDO, 150 mA, 5.0 V
SOIC-8
751-07
1
235
Tube
98
NCV4299D1R2
Obsolete

AEC Qualified
PPAP Capable

Linear Voltage Regulator, LDO, 150 mA, 5.0 V
SOIC-8
751-07
1
235
Tape and Reel
2500
NCV4299D2
Obsolete

AEC Qualified
PPAP Capable

Linear Voltage Regulator, LDO, 150 mA, 5.0 V
SOIC-14
751A-03
1
235
Tube
55
NCV4299D2R2
Obsolete

AEC Qualified
PPAP Capable

Linear Voltage Regulator, LDO, 150 mA, 5.0 V
SOIC-14
751A-03
1
235
Tape and Reel
2500
| | | |
| --- | --- | --- |
| Market Leadtime (weeks) | : | Contact Factory |
| | | |
| --- | --- | --- |
| Market Leadtime (weeks) | : | Contact Factory |
| | | |
| --- | --- | --- |
| Market Leadtime (weeks) | : | Contact Factory |
| | | |
| --- | --- | --- |
| Market Leadtime (weeks) | : | 4 to 8 |
| ON Semiconductor (2020-07-04 00:00) | : | 777 |
| | | |
| --- | --- | --- |
| Market Leadtime (weeks) | : | Contact Factory |
| | | |
| --- | --- | --- |
| Market Leadtime (weeks) | : | Contact Factory |
| PandS (2020-07-06 00:00) | : | >1K |
| | | |
| --- | --- | --- |
| Market Leadtime (weeks) | : | Contact Factory |
| | | |
| --- | --- | --- |
| Market Leadtime (weeks) | : | Contact Factory |
| | | |
| --- | --- | --- |
| Market Leadtime (weeks) | : | Contact Factory |
| | | |
| --- | --- | --- |
| Market Leadtime (weeks) | : | Contact Factory |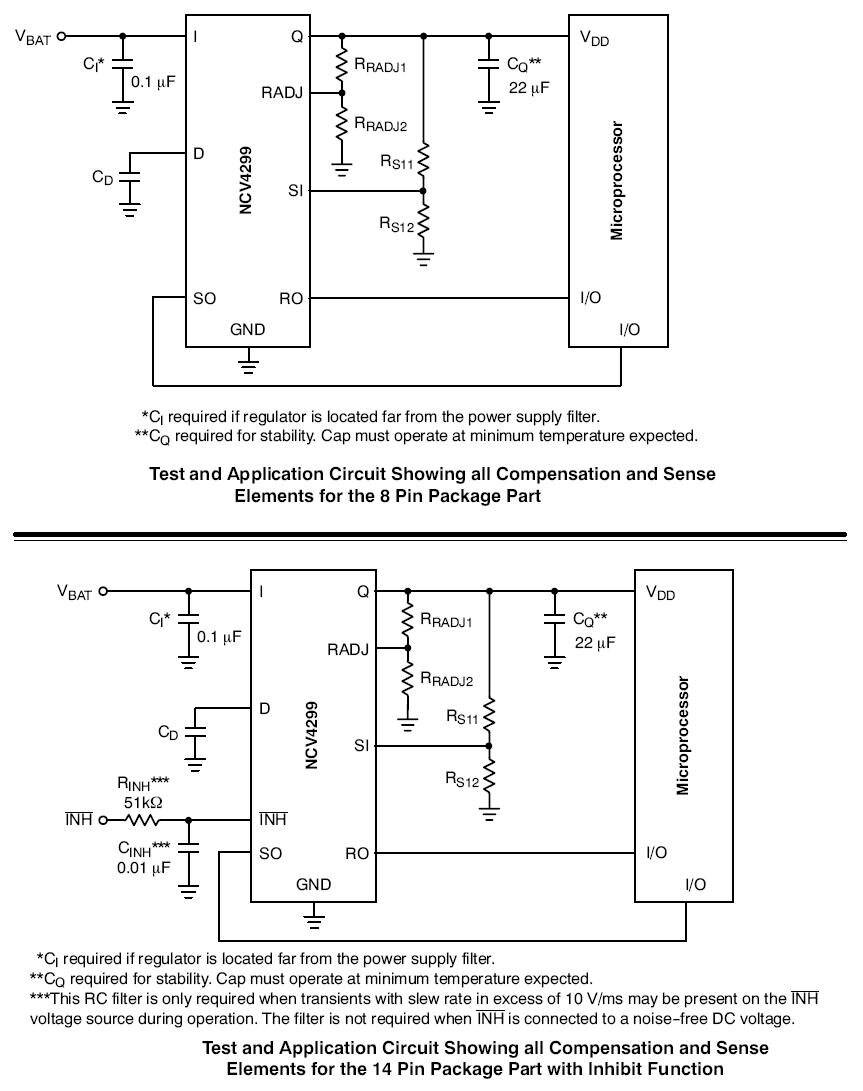 New Products
NCV8730
:
150 mA LDO Regulator
Low quiescent current of 1 µA typical, and shutdown current of 100 nA typical
Wide operating input voltage range of 2.7 to 38 V
Low dropout of 290 mV typical @ 150 mA, 3.3 V
NCV8187
:
1.2 A LDO Regulator
Low Iq of 30 µA typical over full temperature range
High PSRR of 85 dB at 1 kHz for power stability
Low noise of 9 µV(RMS)