The document you are trying to download is gated.
Log into MyON to proceed.
NCV4276: 400 mA LDO Linear Voltage Regulator with Enable
The NCV4276 is a 400 mA output current integrated low dropout regulator family designed for use in harsh automotive environments.
It includes wide operating temperature and input voltage ranges. The family is available with fixed output voltages of 1.8 V, 2.5 V, 3.3 V and 5.0 V with 4% output voltage accuracy. The adjustable, 5.0V and 3.3V output voltage products are available in 2% or 4% accuracy versions. The output is stable over a wide output capacitance and ESR range.
This family has a 45 V peak input voltage and reverse input voltage protection. It also provides overcurrent protection, overtemperature protection and an inhibit pin for control of the state of the output voltage.
The NCV4276 family is available in DPAK and D2 surface mount packages.
Features
Benefits

5 V, 3.3 V, 2.5 V, 1.8 V, or adjustable +/-2% or +/-4% Output Voltage

Perfect for powering microprocessors

Output Current up to 400 mA

Our vast portfolio of automotive regulators allows you to select the one which fits your application.

500 mV (max) Dropout Voltage

Regulates during cranking.

Save battery life - quiescent current down to 10µA max.

Protections:
+45 V Peak Transient Voltage
-42V Reverse Voltage
Short Circuit
Thermal Overload

No external components required to enable protections required within any automotive applications.

Meets automotive qualification requirements.
Applications
End Products

Body and Chassis
Engine Control Unit
Powertrain
Technical Documentation & Design Resources
Case Outline
NCV4276ADS50R4G
Obsolete

AEC Qualified
PPAP Capable
Pb-free
Halide free

400 mA LDO Linear Voltage Regulator with Enable, 5.0 V, 2%
D2PAK-5
936A-02
1
260
Tape and Reel
800
NCV4276ADSADJR4G
Obsolete

AEC Qualified
PPAP Capable
Pb-free
Halide free

400 mA LDO Linear Voltage Regulator with Enable, Adjustable, 2%
D2PAK-5
936A-02
1
260
Tape and Reel
800
NCV4276ADT33RKG
Last Shipments

AEC Qualified
PPAP Capable
Pb-free
Halide free

400 mA LDO Linear Voltage Regulator with Enable, 3.3 V, 2%
DPAK-5
175AA
1
260
Tape and Reel
2500
NCV4276ADT50RKG
Obsolete

AEC Qualified
PPAP Capable
Pb-free
Halide free

400 mA LDO Linear Voltage Regulator with Enable, 5.0 V, 2%
DPAK-5
175AA
1
260
Tape and Reel
2500
NCV4276ADTADJRKG
Obsolete

AEC Qualified
PPAP Capable
Pb-free
Halide free

400 mA LDO Linear Voltage Regulator with Enable, Adjustable, 2%
DPAK-5
175AA
1
260
Tape and Reel
2500
| | | |
| --- | --- | --- |
| Market Leadtime (weeks) | : | Contact Factory |
| PandS (2020-07-14) | : | >10K |
| | | |
| --- | --- | --- |
| Market Leadtime (weeks) | : | Contact Factory |
| PandS (2020-07-14) | : | >1K |
| | | |
| --- | --- | --- |
| Market Leadtime (weeks) | : | Contact Factory |
| PandS (2020-07-14) | : | >1K |
| | | |
| --- | --- | --- |
| Market Leadtime (weeks) | : | Contact Factory |
| | | |
| --- | --- | --- |
| Market Leadtime (weeks) | : | Contact Factory |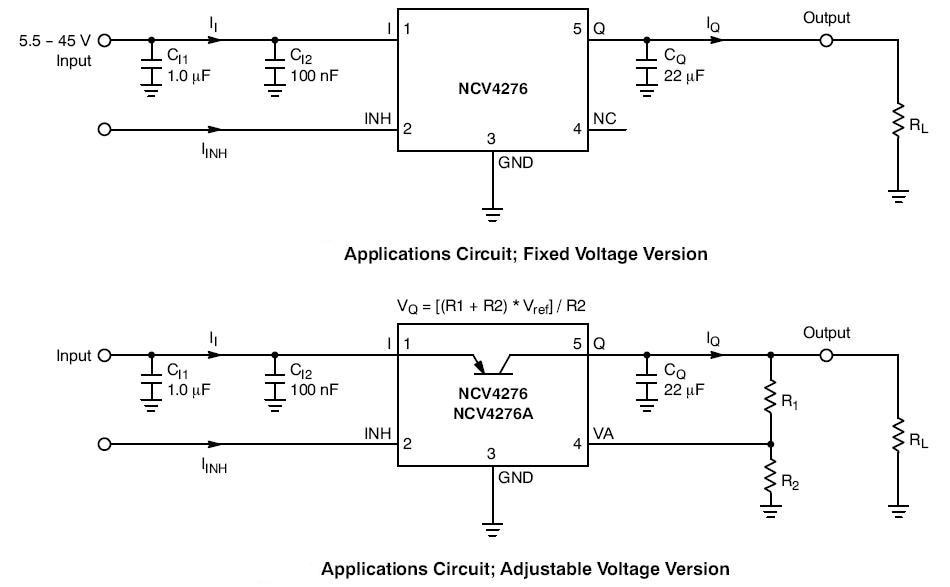 New Products
NCV8730
:
150 mA LDO Regulator
Low quiescent current of 1 µA typical, and shutdown current of 100 nA typical
Wide operating input voltage range of 2.7 to 38 V
Low dropout of 290 mV typical @ 150 mA, 3.3 V
NCV8187
:
1.2 A LDO Regulator
Low Iq of 30 µA typical over full temperature range
High PSRR of 85 dB at 1 kHz for power stability
Low noise of 9 µV(RMS)