The document you are trying to download is gated.
Log into MyON to proceed.
NCV4275: 450 mA LDO Linear Voltage Regulator with Reset and Delay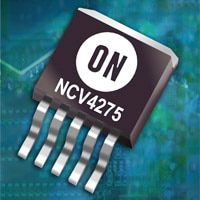 This industry standard linear regulator has the capability to drive loads up to 450 mA at 5 V. It exhibits Reset and Adjustable Delay Reset to interface with microcontrollers.

This device is being replaced for new designs by NV4275A; both NCV4275 and NCV4275A are pin-for-pin compatible with Infineon part number TLE4275 and are available in DPAK and D2PAK 5 Leads. .

Recommended replacements are the following:
- NCV4275DTRKG replaced by NCV4275ADT50RKG (DPAK)
- NCV4275DSR4G replaced by NCV4275ADS50R4G (D2PAK; Tape & Reel)
- NCV4275DSG replaced by NCV4275ADS50G (D2PAK; Rail)
Features
Benefits

5V +/-2% Output Voltage with output current up to 450mA

Tight regulation perfect for powering microprocessors

Active Reset with Adjustable Delay
Reset Low Down to 1V input voltage

Prohibits the microprocessor from performing unrequested tasks at low voltage.

500mV (max) Dropout Voltage

Regulates during cranking.

Protections:
+45V Peak Transient Voltage
-42V Reverse Voltage


No external components required to enable protections required within any automotive applications.

Meets automotive qualification requirements.
Applications
End Products

Body and Chassis
Engine Controle Unit
Powertrain
Technical Documentation & Design Resources
Case Outline
NCV4275DSR4G
Obsolete

AEC Qualified
PPAP Capable
Pb-free
Halide free

450 mA LDO Linear Voltage Regulator with Reset and Delay, 5.0 V
D2PAK-5
936A-02
1
260
Tape and Reel
800
NCV4275DTRKG
Obsolete

AEC Qualified
PPAP Capable
Pb-free
Halide free

450 mA LDO Linear Voltage Regulator with Reset and Delay, 5.0 V
DPAK-5
175AA
1
260
Tape and Reel
2500
| | | |
| --- | --- | --- |
| Market Leadtime (weeks) | : | Contact Factory |
| PandS (2020-08-10 00:00) | : | >1K |
| | | |
| --- | --- | --- |
| Market Leadtime (weeks) | : | Contact Factory |
| PandS (2020-08-10 00:00) | : | >1K |
New Products
NCV8730
:
150 mA LDO Regulator
Low quiescent current of 1 µA typical, and shutdown current of 100 nA typical
Wide operating input voltage range of 2.7 to 38 V
Low dropout of 290 mV typical @ 150 mA, 3.3 V
NCV8187
:
1.2 A LDO Regulator
Low Iq of 30 µA typical over full temperature range
High PSRR of 85 dB at 1 kHz for power stability
Low noise of 9 µV(RMS)