The document you are trying to download is gated.
Log into MyON to proceed.
NCV4264-2: LDO Regulator, 100 mA, Low Iq, High PSRR
The NCV4264-2 is functionally and pin for pin compatible with NCV4264 with a lower quiescent current consumption. Its output stage supplies 100 mA with +/-2.0% output voltage accuracy. Maximum dropout voltage is 500 mV at 100 mA load current. It is internally protected against 45 V input transients, input supply reversal, output overcurrent faults, and excess die temperature. No external components are required to enable these features.
Features
Benefits

Maximum 60 µA Quiescent Current with 100 µA load

Save battery life when in standby mode.

Protections:
-42 V Reverse Voltage Protection
Short Circuit Protection
Thermal Overload Protection

No external components required to enable protections required within any automotive applications.

Can operate during cranking at low input voltage.

5.0 V and 3.3 V Fixed Output Voltage with 2% Output Voltage Accuracy
Applications
End Products

Body and Chassis
Powertrain
Engine Control Module
Technical Documentation & Design Resources
Case Outline
NCV4264-2D33R2G
Active

AEC Qualified
PPAP Capable
Pb-free
Halide free

LDO Regulator, 100 mA, Low Iq, High PSRR, 3.3 V
SOIC-8
751-07
1
260
Tape and Reel
2500
$0.693
NCV4264-2ST33T3G
Active, Not Rec

AEC Qualified
PPAP Capable
Pb-free
Halide free

LDO Regulator, 100 mA, Low Iq, High PSRR, 3.3 V
3
260
Tape and Reel
4000
$0.3467
NCV4264-2ST50T3G
Active, Not Rec

AEC Qualified
PPAP Capable
Pb-free
Halide free

LDO Regulator, 100 mA, Low Iq, High PSRR, 5.0 V
3
260
Tape and Reel
4000
$0.3467
| | | |
| --- | --- | --- |
| Market Leadtime (weeks) | : | Contact Factory |
| | | |
| --- | --- | --- |
| Market Leadtime (weeks) | : | 2 to 4 |
| ON Semiconductor (2020-08-12 00:00) | : | 520,000 |
| PandS (2020-08-11 00:00) | : | >1K |
| | | |
| --- | --- | --- |
| Market Leadtime (weeks) | : | 8 to 12 |
| PandS (2020-08-11 00:00) | : | >1K |
Product
Description
Pricing ($/Unit)
Compliance
Status
Output
Polarity
VO (V)
IO Typ (A)
VI Min (V)
VI Max (V)
VDO Typ (V)
Iq Typ (mA)
PSRR (dB)
Noise (µVrms)
Enable
PowerGood
Package Type
NCV4264-2D33R2G
$0.693
Active
Case Outlines
751-07
Packages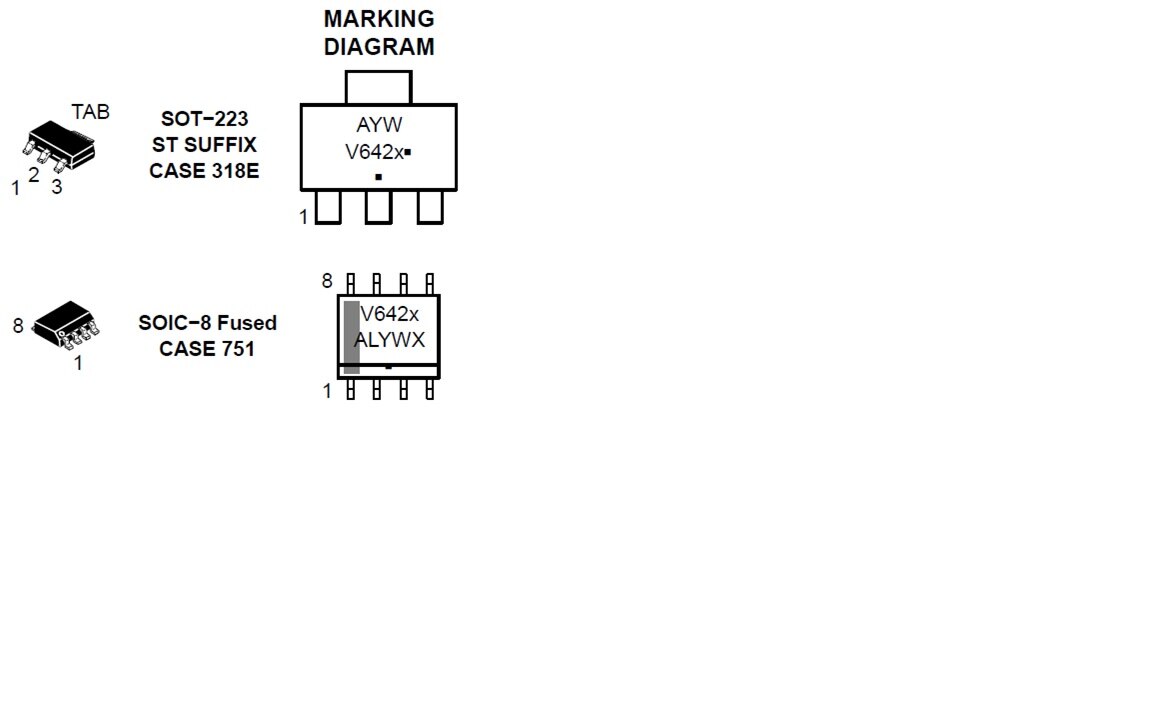 New Products
NCV8187
:
1.2 A LDO Regulator
Low Iq of 30 µA typical over full temperature range
High PSRR of 85 dB at 1 kHz for power stability
Low noise of 9 µV(RMS)
NCV8730
:
150 mA LDO Regulator
Low quiescent current of 1 µA typical, and shutdown current of 100 nA typical
Wide operating input voltage range of 2.7 to 38 V
Low dropout of 290 mV typical @ 150 mA, 3.3 V