The document you are trying to download is gated.
Log into MyON to proceed.
NCP693: Linear Voltage Regulator, CMOS LDO, 1.0 A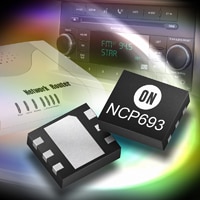 The NCP693 series of fixed output low dropout (LDO) linear voltage regulators are designed for portable battery powered applications with high output current requirement from 300mA to 1A, and low output voltages. The devices has a very low supply current of 65uA at no load, and a standby mode with ultra low supply current of < 0.15 uA can be realized with the chip enable function. The device incorporates a current limit circuit and a thermal-shutdown feature. The device is housed in a very small DFN 1.8 mm x2.0 mm, 0.50 mm pitch package. Standard voltage versions are 0.8V, 1.0V, 1.2V, 2.5V and 3.3V. Other options can be made available from 0.8V to 5.0V in 0.1 V steps.
Features
Benefits

Very low Iq - 65 uA typical at no load.

Ideal for low power and battery applications

Small 1.8 mm x 2.0 mm DFN package

Ideal for space constrained applications

Maximum Operating Voltage of 6.5 V

Low Output Voltage Option down to 0.8 V

High Accuracy Output Voltage of 1.0%

Built in Auto Discharge Function for D Version
Applications
End Products

Battery Powered Instruments
STB, Cable modems
Portable communication equipments

Camcorders,Cameras and computer accessories
Technical Documentation & Design Resources
Case Outline
NCP693DMN08TCG
Last Shipments
Linear Voltage Regulator, CMOS LDO, 1.0 A, Vout: 0.8 V
UDFN-6
517BA
1
260
Tape and Reel
5000
NCP693DMN10TCG
Last Shipments
Linear Voltage Regulator, CMOS LDO, 1.0 A, Vout: 1.0 V
UDFN-6
517BA
1
260
Tape and Reel
5000
NCP693DMN12TCG
Lifetime
Linear Voltage Regulator, CMOS LDO, 1.0 A, Vout: 1.2 V
UDFN-6
517BA
1
260
Tape and Reel
5000
NCP693DMN25TCG
Last Shipments
Linear Voltage Regulator, CMOS LDO, 1.0 A, Vout: 2.5 V
UDFN-6
517BA
1
260
Tape and Reel
5000
NCP693DMN33TCG
Last Shipments
Linear Voltage Regulator, CMOS LDO, 1.0 A, Vout: 3.3 V
UDFN-6
517BA
1
260
Tape and Reel
5000
NCP693HMN08TCG
Last Shipments
Linear Voltage Regulator, CMOS LDO, 1.0 A, Vout: 0.8 V
UDFN-6
517BA
1
260
Tape and Reel
5000
NCP693HMN10TCG
Lifetime
Linear Voltage Regulator, CMOS LDO, 1.0 A, Vout: 1.0 V
UDFN-6
517BA
1
260
Tape and Reel
5000
NCP693HMN12TCG
Last Shipments
Linear Voltage Regulator, CMOS LDO, 1.0 A, Vout: 1.2 V
UDFN-6
517BA
1
260
Tape and Reel
5000
NCP693HMN25TCG
Last Shipments
Linear Voltage Regulator, CMOS LDO, 1.0 A, Vout: 2.5 V
UDFN-6
517BA
1
260
Tape and Reel
5000
NCP693HMN33TCG
Lifetime
Linear Voltage Regulator, CMOS LDO, 1.0 A, Vout: 3.3 V
UDFN-6
517BA
1
260
Tape and Reel
5000
| | | |
| --- | --- | --- |
| Market Leadtime (weeks) | : | Contact Factory |
| | | |
| --- | --- | --- |
| Market Leadtime (weeks) | : | Contact Factory |
| PandS (2020-08-03 00:00) | : | >1K |
| | | |
| --- | --- | --- |
| Market Leadtime (weeks) | : | Contact Factory |
| PandS (2020-08-03 00:00) | : | >1K |
| | | |
| --- | --- | --- |
| Market Leadtime (weeks) | : | Contact Factory |
| | | |
| --- | --- | --- |
| Market Leadtime (weeks) | : | Contact Factory |
| | | |
| --- | --- | --- |
| Market Leadtime (weeks) | : | Contact Factory |
| | | |
| --- | --- | --- |
| Market Leadtime (weeks) | : | Contact Factory |
| PandS (2020-08-03 00:00) | : | >1K |
| | | |
| --- | --- | --- |
| Market Leadtime (weeks) | : | Contact Factory |
| | | |
| --- | --- | --- |
| Market Leadtime (weeks) | : | Contact Factory |
| | | |
| --- | --- | --- |
| Market Leadtime (weeks) | : | Contact Factory |
| PandS (2020-08-03 00:00) | : | >1K |
New Products
NCV8730
:
150 mA LDO Regulator
Low quiescent current of 1 µA typical, and shutdown current of 100 nA typical
Wide operating input voltage range of 2.7 to 38 V
Low dropout of 290 mV typical @ 150 mA, 3.3 V
NCV8187
:
1.2 A LDO Regulator
Low Iq of 30 µA typical over full temperature range
High PSRR of 85 dB at 1 kHz for power stability
Low noise of 9 µV(RMS)