The document you are trying to download is gated.
Log into MyON to proceed.
NCP630: Linear Voltage Regulator, 3 A, Ultra-High PSRR
The NCP630 is a low dropout (LDO) positive linear voltage regulator that is capable of providing a guaranteed output current of 3.0 A with a maximum dropout voltage of 1.25 V at 3.0 A over temperature. The fast turn on time allows step changes in loads commonly found in low voltage microprocessor applications. The NCP630 is currently offered as an adjustable output version that can be programmed down to 1.2 V with two external resistors and as a fixed output version at 3.47 V. On chip trimming adjusts the reference/output voltage within ? 1.5% accuracy. Internal protection features consist of output current limiting and thermal shutdown. NCP630 is available in D2PAK package.
Features

1.25 V Maximum Dropout Voltage at 3.0 A Over Temperature

Voltage on Shutdown Pin is TTL Compatible

Reference/Output Voltage Trimmed to +/-1.5

Thermal Shutdown Protection

-40°C to 125°C Junction Temperature Range

Pb-Free Packages are Available
Applications
Microprocessor Power Supplies
DSP Power Supplies
SMPS Post Regulation
Battery Chargers
Technical Documentation & Design Resources
Case Outline
NCP630AD2TG
Active
Linear Voltage Regulator, 3 A, Ultra-High PSRR, Vout: Adj
D2PAK-5
936A-02
1
260
Tube
50
$0.7553
NCP630AD2TR4G
Active
Linear Voltage Regulator, 3 A, Ultra-High PSRR, Vout: Adj
D2PAK-5
936A-02
1
260
Tape and Reel
800
$0.4293
NCP630GD2TG
Active
Linear Voltage Regulator, 3 A, Ultra-High PSRR, Vout: 3.47 V
D2PAK-5
936A-02
1
260
Tube
50
$0.6
NCP630GD2TR4G
Active
Linear Voltage Regulator, 3 A, Ultra-High PSRR, Vout: 3.47 V
D2PAK-5
936A-02
1
260
Tape and Reel
800
$0.6
| | | |
| --- | --- | --- |
| Market Leadtime (weeks) | : | 2 to 4 |
| ON Semiconductor (2020-07-11 00:00) | : | 1,050 |
| | | |
| --- | --- | --- |
| Market Leadtime (weeks) | : | 2 to 4 |
| FutureElectronics (2020-07-14 00:00) | : | <1K |
| ON Semiconductor (2020-07-11 00:00) | : | 1,600 |
| PandS (2020-07-14 00:00) | : | >1K |
| | | |
| --- | --- | --- |
| Market Leadtime (weeks) | : | 2 to 4 |
| ON Semiconductor (2020-07-11 00:00) | : | 1,750 |
| | | |
| --- | --- | --- |
| Market Leadtime (weeks) | : | 4 to 8 |
Product
Description
Pricing ($/Unit)
Compliance
Status
Output
Polarity
VO (V)
IO Typ (A)
VI Min (V)
VI Max (V)
VDO Typ (V)
Iq Typ (mA)
PSRR (dB)
Noise (µVrms)
Enable
PowerGood
Package Type
Case Outlines
936A-02
Packages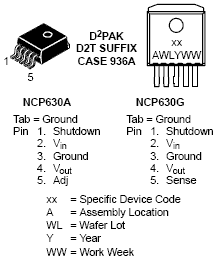 New Products
NCV8730
:
150 mA LDO Regulator
Low quiescent current of 1 µA typical, and shutdown current of 100 nA typical
Wide operating input voltage range of 2.7 to 38 V
Low dropout of 290 mV typical @ 150 mA, 3.3 V
NCV8187
:
1.2 A LDO Regulator
Low Iq of 30 µA typical over full temperature range
High PSRR of 85 dB at 1 kHz for power stability
Low noise of 9 µV(RMS)