The document you are trying to download is gated.
Log into MyON to proceed.
NCP584: Linear Voltage Regulator, LDO, Tri-Mode, Low Iq, 200 mA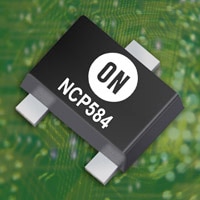 The NCP584 low dropout (LDO) linear voltage regulator is designed for portable battery powered applications which require precise output voltage accuracy, low supply current and high ripple rejection. These devices feature an enable function which lowers current consumption significantly and are offered in the SOT23-5 package. The NCP584 Series has three modes, Chip Enable (CE mode), Fast Transient Mode (FT mode) and the Low Power Mode (LP mode). Both the FT and the LP modes are controlled via the ECO pin.
Features

Low Dropout Voltage of 300 mV at 200 mA, Output Voltage = 1.0 V; 200 mV at 200 mA, Output Voltage = 1.5 V; 140 mV at 200 mA, Output Voltage = 3.0 V.

Excellent Line and Load Regulation

High Output Voltage Accuracy of 2% (3% in LP mode)

Excellent Power Supply Rejection Ratio

Low Temperature Drift Coefficient on the Output Voltage
Applications
Portable Equipment
Hand-Held Instrumentation
Technical Documentation & Design Resources
Case Outline
NCP584HSN09T1G
Last Shipments
Linear Voltage Regulator, LDO, Tri-Mode, Low Iq, 200 mA, Vout: 0.9 V; Active High, LP and FT Mode
SOT-23-5
1212-01
1
260
Tape and Reel
3000
NCP584HSN12T1G
Last Shipments
Linear Voltage Regulator, LDO, Tri-Mode, Low Iq, 200 mA, Vout: 1.2 V; Active High, LP and FT Mode
SOT-23-5
1212-01
1
260
Tape and Reel
3000
NCP584HSN15T1G
Last Shipments
Linear Voltage Regulator, LDO, Tri-Mode, Low Iq, 200 mA, Vout: 1.5 V; Active High, LP and FT Mode
SOT-23-5
1212-01
1
260
Tape and Reel
3000
NCP584HSN18T1G
Last Shipments
Linear Voltage Regulator, LDO, Tri-Mode, Low Iq, 200 mA, Vout: 1.8 V; Active High, LP and FT Mode
SOT-23-5
1212-01
1
260
Tape and Reel
3000
NCP584HSN25T1G
Last Shipments
Linear Voltage Regulator, LDO, Tri-Mode, Low Iq, 200 mA, Vout: 2.5 V; Active High, LP and FT Mode
SOT-23-5
1212-01
1
260
Tape and Reel
3000
NCP584HSN26T1G
Last Shipments
Linear Voltage Regulator, LDO, Tri-Mode, Low Iq, 200 mA, Vout: 2.6 V; Active High, LP and FT Mode
SOT-23-5
1212-01
1
260
Tape and Reel
3000
NCP584HSN28T1G
Last Shipments
Linear Voltage Regulator, LDO, Tri-Mode, Low Iq, 200 mA, Vout: 2.8 V; Active High, LP and FT Mode
SOT-23-5
1212-01
1
260
Tape and Reel
3000
NCP584HSN30T1G
Last Shipments
Linear Voltage Regulator, LDO, Tri-Mode, Low Iq, 200 mA, Vout: 3.0 V; Active High, LP and FT Mode
SOT-23-5
1212-01
1
260
Tape and Reel
3000
NCP584HSN31T1G
Last Shipments
Linear Voltage Regulator, LDO, Tri-Mode, Low Iq, 200 mA, Vout: 3.1 V; Active High, LP and FT Mode
SOT-23-5
1212-01
1
260
Tape and Reel
3000
NCP584HSN33T1G
Last Shipments
Linear Voltage Regulator, LDO, Tri-Mode, Low Iq, 200 mA, Vout: 3.3 V; Active High, LP and FT Mode
SOT-23-5
1212-01
1
260
Tape and Reel
3000
NCP584LSN09T1G
Last Shipments
Linear Voltage Regulator, LDO, Tri-Mode, Low Iq, 200 mA, Vout: 0.9 V; Active High, LP and FT Mode
SOT-23-5
1212-01
1
260
Tape and Reel
3000
NCP584LSN12T1G
Last Shipments
Linear Voltage Regulator, LDO, Tri-Mode, Low Iq, 200 mA, Vout: 1.2 V; Active High, LP and FT Mode
SOT-23-5
1212-01
1
260
Tape and Reel
3000
NCP584LSN18T1G
Last Shipments
Linear Voltage Regulator, LDO, Tri-Mode, Low Iq, 200 mA, Vout: 1.8 V; Active High, LP and FT Mode
SOT-23-5
1212-01
1
260
Tape and Reel
3000
| | | |
| --- | --- | --- |
| Market Leadtime (weeks) | : | Contact Factory |
| | | |
| --- | --- | --- |
| Market Leadtime (weeks) | : | Contact Factory |
| PandS (2020-05-24 00:00) | : | <1K |
| | | |
| --- | --- | --- |
| Market Leadtime (weeks) | : | Contact Factory |
| | | |
| --- | --- | --- |
| Market Leadtime (weeks) | : | Contact Factory |
| PandS (2020-05-24 00:00) | : | >1K |
| | | |
| --- | --- | --- |
| Market Leadtime (weeks) | : | Contact Factory |
| | | |
| --- | --- | --- |
| Market Leadtime (weeks) | : | Contact Factory |
| ON Semiconductor (2020-05-23 00:00) | : | 6,000 |
| | | |
| --- | --- | --- |
| Market Leadtime (weeks) | : | Contact Factory |
| PandS (2020-05-24 00:00) | : | >1K |
| | | |
| --- | --- | --- |
| Market Leadtime (weeks) | : | Contact Factory |
| PandS (2020-05-24 00:00) | : | >1K |
| | | |
| --- | --- | --- |
| Market Leadtime (weeks) | : | Contact Factory |
| | | |
| --- | --- | --- |
| Market Leadtime (weeks) | : | Contact Factory |
| ON Semiconductor (2020-05-23 00:00) | : | 3,000 |
| PandS (2020-05-24 00:00) | : | >1K |
| | | |
| --- | --- | --- |
| Market Leadtime (weeks) | : | Contact Factory |
| | | |
| --- | --- | --- |
| Market Leadtime (weeks) | : | Contact Factory |
| ON Semiconductor (2020-05-23 00:00) | : | 3,000 |
| | | |
| --- | --- | --- |
| Market Leadtime (weeks) | : | Contact Factory |
| ON Semiconductor (2020-05-23 00:00) | : | 9,000 |