The document you are trying to download is gated.
Log into MyON to proceed.
NCP4586: LDO Regulator, 150 mA, High PSRR, Low Noise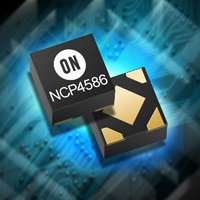 The NCP4586 is a CMOS 150 mA linear low dropout regulator with low noise, high ripple rejection, low dropout, high output voltage accuracy and low supply current. The device is available in three configurations: enable high, enable low and enable high plus an auto-discharge circuit on the output. The NCP4586 comes in fixed output voltage versions which range from 1.2 V to 5.0 V in increments of 100 mV. It is available in a choice of three packages: a 1mm x 1mm UDFN, a SOT82-AB and a SOT23-5. For a specific configuration of enable, output voltage and package, contact your local sales office.
Features
Benefits

Operating Input Voltage Range: 1.7 V to 6.5 V

Well suited to battery powered applications

Output Voltage Range: 1.2 V to 5.0 V (available in 0.1 V steps)

Contact your local sales office for custom voltage options

1% Output Voltage Accuracy (VOUT > 2 V, TJ = 25C)

Current Fold Back Protection

High PSRR: 80 dB at 1 kHz

Low Dropout: 320 mV Typ. at 150 mA
Applications
End Products

Post Power Supply voltage regulation for processors, FPGA, DSP
Point of Load voltage regulation
Noise filtering

Cameras, MP3 Players, Camcorders
Portable phones
STB, Game consoles, DVR
Hard Disc Drives, Monitors
Technical Documentation & Design Resources
Case Outline
NCP4586DMU12TCG
Last Shipments
LDO Regulator, 150 mA, High PSRR, Low Noise, 1.2 V
UDFN-4
517BR
1
260
Tape and Reel
10000
NCP4586DMU14TCG
Lifetime
LDO Regulator, 150 mA, High PSRR, Low Noise, 1.4V
UDFN-4
517BR
1
260
Tape and Reel
10000
NCP4586DMU15TCG
Lifetime
LDO Regulator, 150 mA, High PSRR, Low Noise, 1.5 V
UDFN-4
517BR
1
260
Tape and Reel
10000
NCP4586DMU18TCG
Last Shipments
LDO Regulator, 150 mA, High PSRR, Low Noise, 1.8 V
UDFN-4
517BR
1
260
Tape and Reel
10000
NCP4586DMU25TCG
Last Shipments
LDO Regulator, 150 mA, High PSRR, Low Noise, 2.5V
UDFN-4
517BR
1
260
Tape and Reel
10000
NCP4586DMU28TCG
Last Shipments
LDO Regulator, 150 mA, High PSRR, Low Noise, 2.8 V
UDFN-4
517BR
1
260
Tape and Reel
10000
NCP4586DMU30TCG
Last Shipments
LDO Regulator, 150 mA, High PSRR, Low Noise, 3.0 V
UDFN-4
517BR
1
260
Tape and Reel
10000
NCP4586DMU33TCG
Last Shipments
LDO Regulator, 150 mA, High PSRR, Low Noise, 3.3V
UDFN-4
517BR
1
260
Tape and Reel
10000
NCP4586DMU50TCG
Last Shipments
LDO Regulator, 150 mA, High PSRR, Low Noise, 5.0 V
UDFN-4
517BR
1
260
Tape and Reel
10000
NCP4586DSN12T1G
Lifetime
LDO Regulator, 150 mA, High PSRR, Low Noise, 1.2V
SOT-23-5
1212-01
1
260
Tape and Reel
3000
NCP4586DSN18T1G
Lifetime
LDO Regulator, 150 mA, High PSRR, Low Noise, 1.8V
SOT-23-5
1212-01
1
260
Tape and Reel
3000
NCP4586DSN28T1G
Last Shipments
LDO Regulator, 150 mA, High PSRR, Low Noise, 2.8V
SOT-23-5
1212-01
1
260
Tape and Reel
3000
NCP4586DSN30T1G
Last Shipments
LDO Regulator, 150 mA, High PSRR, Low Noise, 3.0V
SOT-23-5
1212-01
1
260
Tape and Reel
3000
NCP4586DSN33T1G
Last Shipments
LDO Regulator, 150 mA, High PSRR, Low Noise, 3.3V
SOT-23-5
1212-01
1
260
Tape and Reel
3000
NCP4586DSN50T1G
Last Shipments
LDO Regulator, 150 mA, High PSRR, Low Noise, 5.0V
SOT-23-5
1212-01
1
260
Tape and Reel
3000
NCP4586DSQ12T1G
Lifetime
LDO Regulator, 150 mA, High PSRR, Low Noise, 1.2V
SC-82AB-4
419C-02
1
260
Tape and Reel
3000
NCP4586DSQ18T1G
Active
LDO Regulator, 150 mA, High PSRR, Low Noise, 1.8 V
SC-82AB-4
419C-02
1
260
Tape and Reel
3000
$0.24
NCP4586DSQ28T1G
Lifetime
LDO Regulator, 150 mA, High PSRR, Low Noise, 2.8 V
SC-82AB-4
419C-02
1
260
Tape and Reel
3000
NCP4586DSQ30T1G
Lifetime
LDO Regulator, 150 mA, High PSRR, Low Noise, 3.0 V
SC-82AB-4
419C-02
1
260
Tape and Reel
3000
NCP4586DSQ33T1G
Last Shipments
LDO Regulator, 150 mA, High PSRR, Low Noise, 3.3 V
SC-82AB-4
419C-02
1
260
Tape and Reel
3000
NCP4586DSQ50T1G
Last Shipments
LDO Regulator, 150 mA, High PSRR, Low Noise, 5.0 V
SC-82AB-4
419C-02
1
260
Tape and Reel
3000
| | | |
| --- | --- | --- |
| Market Leadtime (weeks) | : | Contact Factory |
| | | |
| --- | --- | --- |
| Market Leadtime (weeks) | : | Contact Factory |
| PandS (2020-08-12) | : | >1K |
| | | |
| --- | --- | --- |
| Market Leadtime (weeks) | : | Contact Factory |
| PandS (2020-08-12) | : | >1K |
| | | |
| --- | --- | --- |
| Market Leadtime (weeks) | : | Contact Factory |
| | | |
| --- | --- | --- |
| Market Leadtime (weeks) | : | Contact Factory |
| PandS (2020-08-12) | : | >1K |
| | | |
| --- | --- | --- |
| Market Leadtime (weeks) | : | Contact Factory |
| | | |
| --- | --- | --- |
| Market Leadtime (weeks) | : | Contact Factory |
| | | |
| --- | --- | --- |
| Market Leadtime (weeks) | : | Contact Factory |
| | | |
| --- | --- | --- |
| Market Leadtime (weeks) | : | Contact Factory |
| ON Semiconductor (2020-08-12) | : | 50,000 |
| | | |
| --- | --- | --- |
| Market Leadtime (weeks) | : | Contact Factory |
| | | |
| --- | --- | --- |
| Market Leadtime (weeks) | : | Contact Factory |
| | | |
| --- | --- | --- |
| Market Leadtime (weeks) | : | Contact Factory |
| | | |
| --- | --- | --- |
| Market Leadtime (weeks) | : | Contact Factory |
| ON Semiconductor (2020-08-12) | : | 3,000 |
| PandS (2020-08-12) | : | >1K |
| | | |
| --- | --- | --- |
| Market Leadtime (weeks) | : | Contact Factory |
| | | |
| --- | --- | --- |
| Market Leadtime (weeks) | : | Contact Factory |
| ON Semiconductor (2020-08-12) | : | 3,000 |
| | | |
| --- | --- | --- |
| Market Leadtime (weeks) | : | Contact Factory |
| | | |
| --- | --- | --- |
| Market Leadtime (weeks) | : | Contact Factory |
| | | |
| --- | --- | --- |
| Market Leadtime (weeks) | : | Contact Factory |
| | | |
| --- | --- | --- |
| Market Leadtime (weeks) | : | Contact Factory |
| | | |
| --- | --- | --- |
| Market Leadtime (weeks) | : | Contact Factory |
| ON Semiconductor (2020-08-12) | : | 24,000 |
| | | |
| --- | --- | --- |
| Market Leadtime (weeks) | : | Contact Factory |
Product
Description
Pricing ($/Unit)
Compliance
Status
Output
Polarity
VO (V)
IO Typ (A)
VI Min (V)
VI Max (V)
VDO Typ (V)
Iq Typ (mA)
PSRR (dB)
Noise (µVrms)
Enable
PowerGood
Package Type
NCP4586DSQ18T1G
$0.24
Active
New Products
NCV8730
:
150 mA LDO Regulator
Low quiescent current of 1 µA typical, and shutdown current of 100 nA typical
Wide operating input voltage range of 2.7 to 38 V
Low dropout of 290 mV typical @ 150 mA, 3.3 V
NCV8187
:
1.2 A LDO Regulator
Low Iq of 30 µA typical over full temperature range
High PSRR of 85 dB at 1 kHz for power stability
Low noise of 9 µV(RMS)