The document you are trying to download is gated.
Log into MyON to proceed.
CS8183: 200 mA LDO Linear Voltage Tracking Regulator with Enable
The CS8183 is a dual low dropout tracking regulator designed to provide adjustable buffered output voltages that closely track (110mV) the reference inputs.
The outputs deliver up to 200mA while being able to be configured higher, lower or equal to the reference voltages. The outputs have been designed to operate over a wide range (2.8V to 45V) while still maintaining excellent DC characteristics.

The CS8183 is protected from reverse battery, short circuit and thermal runaway conditions. The device also can withstand 45V load dump transients and -50V reverse polarity input voltage transients. This makes it suitable for use in automotive environments.

The VREF/ENABLE leads serve two purposes. They are used to provide the input voltage as a reference for the output and they also can be pulled low to place the device in sleep mode where it nominally draws less than 30µA from the supply.
Features

Two Regulated Outputs 200mA, +/-10mV Track Worst Case

Low Dropout (0.35V typ. @ 200mA)

Independent Thermal Shutdown

Internally Fused Leads in the SO-20WB Package

Pb-Free Packages are Available
Technical Documentation & Design Resources
Case Outline
CS8183YDWF20G
Obsolete
200 mA LDO Linear Voltage Tracking Regulator with Enable, Adjustable
SOIC-20W
751D-05
3
260
Tube
38
CS8183YDWFR20G
Obsolete
200 mA LDO Linear Voltage Tracking Regulator with Enable, Adjustable
SOIC-20W
751D-05
3
260
Tape and Reel
1000
CS8183YDWF20
Obsolete
200 mA LDO Linear Voltage Tracking Regulator with Enable, Adjustable
SOIC-20W
751D-05
1
235
Tube
38
CS8183YDWFR20
Obsolete
200 mA LDO Linear Voltage Tracking Regulator with Enable, Adjustable
SOIC-20W
751D-05
1
235
Tape and Reel
1000
| | | |
| --- | --- | --- |
| Market Leadtime (weeks) | : | Contact Factory |
| | | |
| --- | --- | --- |
| Market Leadtime (weeks) | : | Contact Factory |
| | | |
| --- | --- | --- |
| Market Leadtime (weeks) | : | Contact Factory |
| PandS (2020-07-09 00:00) | : | <100 |
| | | |
| --- | --- | --- |
| Market Leadtime (weeks) | : | Contact Factory |
Case Outlines
751D-05
Packages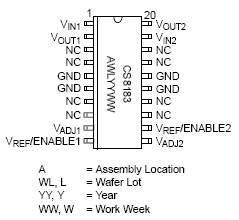 New Products
NCV8187
:
1.2 A LDO Regulator
Low Iq of 30 µA typical over full temperature range
High PSRR of 85 dB at 1 kHz for power stability
Low noise of 9 µV(RMS)
NCV8730
:
150 mA LDO Regulator
Low quiescent current of 1 µA typical, and shutdown current of 100 nA typical
Wide operating input voltage range of 2.7 to 38 V
Low dropout of 290 mV typical @ 150 mA, 3.3 V