The document you are trying to download is gated.
Log into MyON to proceed.
NCP51200: 3A Sink/Source DDR Termination Regulator w/ VTTREF Buffered Reference for DDR2, DDR3, DDR3L and DDR4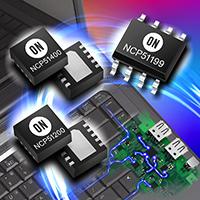 The NCP51200 is a source/sink Double Data Rate (DDR) termination regulator specifically designed for low input voltage and low-noise systems where space is a key consideration. The NCP51200 maintains a fast transient response and only requires a minimum output capacitance of 20 uF. The NCP51200 supports a remote sensing function and all power requirements for DDR VTT bus termination. The NCP51200 can also be used in low-power chipsets and graphics processor cores that require dynamically adjustable output voltages. In addition, the NCP51200 provides an open-drain PGOOD signal to monitor the output regulation and an EN signal that can be used to discharge VTT during S3 (suspend to RAM) for DDR applications. The NCP51200 is available in the thermally-efficient DFN10 Exposed Pad package, and is rated both Green and Pb-free.
Features

Input Voltage Rails: Supports 2.5 and 3.3 V Rails

PVCC Voltage Range: 1.1 to 3.5 V

Fast Load-Transient Response

PGOOD-Logic output pin to Monitor VTT Regulation

EN-Logic input pin for Shutdown mode

VRI-Reference Input Allows for Flexible Input Tracking Either Directly or Through Resistor Divider

Built-in Soft Start, Under Voltage Lockout and Over Current Limit
Applications
End Products

DDR Memory Termination
Graphics Processor Core Supplies
Chipset/RAM Supplies as Low as 0.5 V
Active Bus Termination
TPS51200 upgrade with improved output accuracy and transient response

Desktop PC's, Notebooks, and Workstations
Servers and Networking equipment
Set Top Boxes, LCD-TV/PDP-TV, Copier/Printers
Technical Documentation & Design Resources
Case Outline
NCP51200MNTXG
Active
3A Sink/Source DDR Termination Regulator w/ VTTREF Buffered Reference for DDR2, DDR3, DDR3L and DDR4
DFN-10
485C
1
260
Tape and Reel
3000
$0.3333
NCV51200MLTXG
Active

AEC Qualified
PPAP Capable
Pb-free
Halide free

3A Sink/Source DDR Termination Regulator w/ VTTREF Buffered Reference for DDR2, DDR3, DDR3L and DDR4
DFNW-10
507AM
1
260
Tape and Reel
3000
$0.3867
NCV51200MNTXG
Active

AEC Qualified
PPAP Capable
Pb-free
Halide free

3A Sink/Source DDR Termination Regulator w/ VTTREF Buffered Reference for DDR2, DDR3, DDR3L and DDR4
DFN-10
485C
1
260
Tape and Reel
3000
$0.3667
NCV51200MWTXG
Active

AEC Qualified
PPAP Capable
Pb-free
Halide free

3A Sink/Source DDR Termination Regulator w/ VTTREF Buffered Reference for DDR2, DDR3, DDR3L and DDR4
DFN-10
485C
1
260
Tape and Reel
3000
$0.3867
| | | |
| --- | --- | --- |
| Market Leadtime (weeks) | : | 13 to 16 |
| | | |
| --- | --- | --- |
| Market Leadtime (weeks) | : | 8 to 12 |
| | | |
| --- | --- | --- |
| Market Leadtime (weeks) | : | 4 to 8 |
| | | |
| --- | --- | --- |
| Market Leadtime (weeks) | : | 8 to 12 |
Product
Description
Pricing ($/Unit)
Compliance
Status
DDR Memory Type
IOUT VTT Max (A)
IQ Typ (µA)
VCC Bias Min (V)
VCC Bias Max (V)
Remote Sense
Power Good
Package Type