The document you are trying to download is gated.
Log into MyON to proceed.
NCP51199: 2 Amps DDR Termination Regulator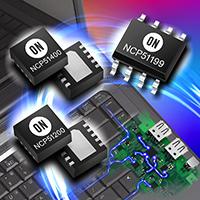 The NCP51199 is a linear regulator designed to supply a regulated VTT termination voltage for DDR-2 and DDR-3 memory applications.The regulator is capable of actively sourcing and sinking +-2A peak currents for DDR-2 and DDR-3 up to +-1.5A while regulating the VTT output voltage to within +-10mV.The output termination voltage is regulated to track VDDQ2 by two external voltage divider resistors connected to the PVCC,GND,and VREF pins.
Features

Supports DDR2 VTT Termination to 2 A, DDR3 to 1.5 A (peak

Supports DDR VTT Voltages as low as 600 mV at 1.2 A (peak)

Stable with 10uF Ceramic Capacitance on VTT Output

High Accuracy VTT Output at FullLoad

Shutdown for Standby or Suspend Mode

Integrated Thermal and CurrentLimit Protection
Applications
SDRAM Termination Voltage for DDR2 / DDR3
Motherboard, Notebook, and VGA Card Memory Termination
Set Top Box, Digital TV, Printers
Technical Documentation & Design Resources
Case Outline
NCP51199PDR2G
Active
2 Amps DDR Termination Regulator
SOIC-8 NB EP
751BU
3
260
Tape and Reel
2500
$0.1944
NCV51199PDR2G
Active

AEC Qualified
PPAP Capable
Pb-free
Halide free

2 Amps DDR Termination Regulator
SOIC-8 NB EP
751BU
2
260
Tape and Reel
2500
$0.284
| | | |
| --- | --- | --- |
| Market Leadtime (weeks) | : | 2 to 4 |
| ON Semiconductor (2020-08-12) | : | 10,000 |
| | | |
| --- | --- | --- |
| Market Leadtime (weeks) | : | 13 to 16 |
Product
Description
Pricing ($/Unit)
Compliance
Status
DDR Memory Type
IOUT VTT Max (A)
IQ Typ (µA)
VCC Bias Min (V)
VCC Bias Max (V)
Remote Sense
Power Good
Package Type
NCP51199PDR2G
$0.1944
Active
NCV51199PDR2G
$0.284
Active