NCV896530: Dual Output Buck Converter, Low Voltage, 2.1 MHz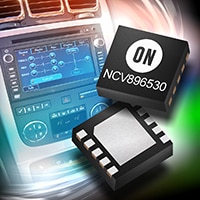 The NCV896530 dual step-down dc-dc converter is a monolithic integrated circuit dedicated to automotive driver information systems from a downstream voltage rail. Both channels are externally adjustable from 0.9 V to 3.3 V and can source totally up to 1600 mA. Converters are running at 2.1 MHz switching frequency above the sensitive AM band and operate 180° out of phase to reduce large amounts of current demand on the rail. Synchronous rectification offers improved system efficiency.
The NCV896530 provides additional features expected in automotive power systems such as integrated soft-start, cycle-by-cycle current limit and thermal shutdown protection. The device can also be synchronized to an external clock signal in the range of 2.1 MHz. The NCV896530 is available in a space saving, 3 x 3 mm 10-pin DFN package.
Features
Benefits

Synchronous Rectification

2.1 MHz Switching Frequency

Smaller inductor, no AM band emissions

Thermal Limit and Short Circuit Protection

2 Outputs are 180° Out-of-Phase

Decreased cost and solution size
Applications
Audio
Infotainment
Instrumentation
Technical Documentation & Design Resources
Evaluation/Development Tool Information
| Product | Status | Compliance | Short Description | Action |
| --- | --- | --- | --- | --- |
| STR-PWRNCV896530-R0-GEVK | Active | | Strata Series NCV896530 Automotive Dual Output Buck Converter. | |
| | | |
| --- | --- | --- |
| | | Interactive Block Diagram |
Product
Description
Pricing ($/Unit)
Compliance
Status
Topology
Control Mode
VCC Min (V)
VCC Max (V)
VO Typ (V)
IO Typ (A)
Efficiency (%)
fSW Typ (kHz)
Package Type
NCV896530MWATXG
$1.3333
Active
Application
Diagram - Block
Your request has been submitted for approval.
Please allow 2-5 business days for a response.
You will receive an email when your request is approved.
Request for this document already exists and is waiting for approval.