The document you are trying to download is gated.
Log into MyON to proceed.
NCP1565: PWM Controller, Highly Integrated Dual-Mode Active Clamp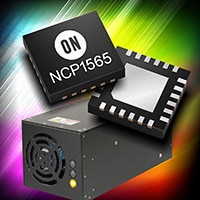 The NCP1565 is a highly integrated dual-mode active-clamp PWM controller targeting next-generation high-density, high-performance and small to medium power level isolated dc-dc converters for use in telecom and datacom industries. It can be configured in either voltage mode control with input voltage feed-forward or peak current mode control. Peak current mode control may be implemented with input voltage feed forward as well. Adjustable adaptive overlap time optimizes system efficiency based on input voltage and load conditions. This controller integrates all the necessary control and protection functions to implement an isolated active clamp forward or asymmetric half-bridge converter. It integrates a high-voltage startup bias regulator. The NCP1565 has a line undervoltage detector, cycle-by-cycle current limiting, line voltage dependent maximum duty ratio limit, and programmable overtemperature protection using an external thermistor. It also includes a dual-function FLTSD pin used for communicating the presence of a fault but also for shutting down the controller.
Features
Benefits

Both Voltage Mode Control and Current Mode Control

Flexible topology solution

Stable constant crossover across input voltage range

Adaptive Overlap time Control

Extended ZVS across input & output operating conditions

Integrated 120 V HV Startup

Lossless startup and reduced Vcc capacitor via dynamic startup

Programmable Line Undervoltage Lockout (UVLO) with Adjustable Hysteresis

Safely limits operating input voltage range

Cycle by Cycle Peak Current Limiting

Increased converter robustness

Overcurrent Protection Based on Average Current

Precise output power limit

Programmable Duty Ratio Clamp

Efficiently prevents transformer saturation

Lowers components stress at startup

Programmable Shutdown and Restart Delays

Robustness and flexibility of design

Programmable External Overtemperature Protection Using Thermistor

Robustness and flexibility of design

FLT/SD pin Used for Fault reporting and Shutdown Input

Programmable Oscillator with 1.5 MHz Maximum Frequency

Ready for high frequency designs

Main Switch Drive Capability of -2 A/3 A

Drive larger MOSFETs more efficiently

Active Clamp Switch Drive Capability of -2 A/1 A

More efficient drive capability

VCC Range: from 6.5 V to 20 V
Applications
End Products

High Efficiency Isolated dc−dc Converters
Server Power Supplies
24 V and 48 V Telecom systems
42 V Automotive Applications
Technical Documentation & Design Resources
Evaluation/Development Tool Information
| Product | Status | Compliance | Short Description | Action |
| --- | --- | --- | --- | --- |
| NCP1565TELECGEVB | Active | | High Efficiency Isolated dc-dc Converters, BRICK TELECOM Evaluation Board | |
Case Outline
NCP1565MNTXG
Active
PWM Controller, Highly Integrated Dual-Mode Active Clamp
QFN-24
485CW
1
260
Tape and Reel
4000
$1.2
| | | |
| --- | --- | --- |
| Market Leadtime (weeks) | : | 13 to 16 |
Product
Description
Pricing ($/Unit)
Compliance
Status
Topology
Phases
Control Mode
VCC Min (V)
VCC Max (V)
fSW Typ (kHz)
Package Type
NCP1565MNTXG
$1.2
Active
Programmable up to 1.5Mhz