The document you are trying to download is gated.
Log into MyON to proceed.
LC05111CMT: Battery Protection Controller with Integrated MOSFET, 1-Cell Lithium-Ion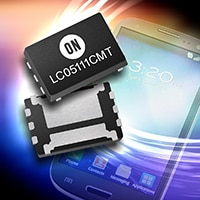 The LC05111CMT is a battery protection circuit for 1-cell lithium-ion secondary batteries with integrated power MOSFET. Also, it integrates highly accurate detection circuits and detection delay circuits to prevent batteries from over-charging, over-discharging, over-current discharging and over-current charging. A battery protection system can be made by only LC05111CMT and few external parts.
Features
Benefits

Short TAT for preparing samples

Reducing the dispersion of over-current detection

Highly accurate detection
| Applications | | End Products |
| --- | --- | --- |
| Lithium ion battery protection | | |
Technical Documentation & Design Resources
Evaluation/Development Tool Information
| Product | Status | Compliance | Short Description | Action |
| --- | --- | --- | --- | --- |
| LC05111C05MTGEVB | Active | | Battery Protection Controller with Integrated MOSFET, 1-Cell Lithium-Ion Evaluation Board | |
Case Outline
LC05111C01MTTTG
Active
LC05111CMT
WDFN-6 Dual Flag
511BZ
3
260
Tape and Reel
4000
$0.6667
LC05111C02MTTTG
Active
LC05111CMT
WDFN-6 Dual Flag
511BZ
3
260
Tape and Reel
4000
$0.4667
LC05111C05MTTTG
Active
LC05111CMT
WDFN-6 Dual Flag
511BZ
3
260
Tape and Reel
4000
$0.6667
LC05111C13MTTTG
Active
LC05111CMT
WDFN-6 Dual Flag
511BZ
3
260
Tape and Reel
4000
$0.6667
LC05111C14MTTTG
Active
LC05111CMT
WDFN-6 Dual Flag
511BZ
3
260
Tape and Reel
4000
$0.6667
LC05111C16MTTTG
Active
LC05111CMT
WDFN-6 Dual Flag
511BZ
3
260
Tape and Reel
4000
$0.6667
LC05111C18MTTTG
Active
LC05111CMT
WDFN-6 Dual Flag
511BZ
3
260
Tape and Reel
4000
Contact Sales Office
LC05111C20MTTTG
Product Preview
LC05111CMT
WDFN-6 Dual Flag
511BZ
3
260
Tape and Reel
4000
Contact Sales Office
LC05111C21MTTTG
Active
LC05111CMT
WDFN-6 Dual Flag
511BZ
3
260
Tape and Reel
4000
$0.6667
LC05111C23MTTTG
Active
LC05111CMT
WDFN-6 Dual Flag
511BZ
3
260
Tape and Reel
4000
$0.6667
LC05111C25MTTTG
Active
LC05111CMT
WDFN-6 Dual Flag
511BZ
3
260
Tape and Reel
4000
$0.6667
| | | |
| --- | --- | --- |
| Market Leadtime (weeks) | : | 4 to 8 |
| | | |
| --- | --- | --- |
| Market Leadtime (weeks) | : | 4 to 8 |
| | | |
| --- | --- | --- |
| Market Leadtime (weeks) | : | 2 to 4 |
| ON Semiconductor (2020-09-02 00:00) | : | 24,000 |
| | | |
| --- | --- | --- |
| Market Leadtime (weeks) | : | 4 to 8 |
| | | |
| --- | --- | --- |
| Market Leadtime (weeks) | : | 4 to 8 |
| | | |
| --- | --- | --- |
| Market Leadtime (weeks) | : | 2 to 4 |
| ON Semiconductor (2020-09-02 00:00) | : | 250,204 |
| | | |
| --- | --- | --- |
| Market Leadtime (weeks) | : | 4 to 8 |
| ON Semiconductor (2020-09-02 00:00) | : | 12,000 |
| | | |
| --- | --- | --- |
| Market Leadtime (weeks) | : | Contact Factory |
| | | |
| --- | --- | --- |
| Market Leadtime (weeks) | : | 4 to 8 |
| ON Semiconductor (2020-09-02 00:00) | : | 16,000 |
| | | |
| --- | --- | --- |
| Market Leadtime (weeks) | : | 4 to 8 |
| | | |
| --- | --- | --- |
| Market Leadtime (weeks) | : | 4 to 8 |
Product
Description
Pricing ($/Unit)
Compliance
Status
Vov Typ. (mV)
Vuv Typ. (mV)
Ioc Typ. (A)
Voc Typ. (mV)
Ioch Typ. (A)
Voch Typ. (mV)
Ioc2 Typ. (A)
Voc2 Typ. (mV)
Rss(on) typ @ Vgs=4.5 V (mΩ)
Auto Wake Up Enable (Yes/No)
0 V Battery Charge Enable (Yes/No)
Package Type
Case Outlines
511BZ
Packages