NCP4303: Secondary Side Controller, Synchronous Rectification, for High Efficiency SMPS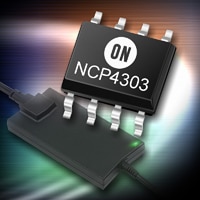 The NCP4303A/B is a full featured controller and driver tailored to control synchronous rectifier circuitry in switch mode power supplies. Because of its versatility, it can be used in various topologies such as flyback, forward and half bridge resonant LLC.
The combination of externally adjustable minimum on and off times helps to fight the ringing induced by the PCB layout and other parasitic elements. Therefore, a reliable and noise less operation of the SR system is insured.
The extremely low turn off delay time, high sink current capability of the driver and automatic package parasitic inductance compensation system allow to maximize synchronous rectification MOSFET conduction time that enables further increase of SMPS efficiency.
Finally, a wide operating VCC range combined with two versions of driver voltage clamp eases implementation of the SR system in 24 V output applications.

NCP4304 is recommended for new designs. NCP4303 will continue to be supported in production. NCP4304 was introduced to enhance the performance of LLC designs which use the Trigger input. Other performance and applications are the same.
Features
Benefits

Automatic parasitic inductance compensation input

Maximizes the conduction time to get the full efficiency benefit of synchronous rectification

40 ns turn off delay from current sense input to driver output

Fast switching response to current sense inputs

Wide Vcc operating range up to 30 V

Allows direct connection of the Vcc to the output in 24 V output applications

Externally adjustable minimum on and minimum off times

Prevents false switching due to ringing and dropouts induced by the PCB

Trigger input for interfacing with primary side switching signal

Allows the NCP4303 to be used in CCM topologies

Disable input for standby mode

Enters the device into a low consumption state

5 A / 2.5 A peak sink / source drive capability

High sink capability allows for quick turn-off of the synchronous rectification MOSFET

True secondary ZCD with adjustable threshold

Accurate detection of secondary side current

Gate drive clamp of either 12 V (A version) or 6 V (B version)

Gate drive voltages tailored to the synchronous rectification MOSFET of choice

Maximum frequency of operation up to 500 kHz
Applications
End Products

ATX power supplies
High Power AC/DC adapters
Flat TV power supplies

All-in-one PCs
Gaming Consoles
Notebook Adapters
Technical Documentation & Design Resources
Case Outline
NCP4303ADR2G
Active, Not Rec
NCP4303
SOIC-8
751-07
1
260
Tape and Reel
2500
$0.4267
NCP4303AMNTWG
Obsolete
NCP4303
DFN-8
488AF
1
260
Tape and Reel
4000
NCP4303BDR2G
Obsolete
NCP4303
SOIC-8
751-07
1
260
Tape and Reel
2500
NCP4303BMNTWG
Obsolete
NCP4303
DFN-8
488AF
1
260
Tape and Reel
4000
| | | |
| --- | --- | --- |
| Market Leadtime (weeks) | : | Contact Factory |
| PandS (2020-09-14 00:00) | : | >1K |
| ON Semiconductor (2020-09-02 00:00) | : | 88,029 |
| | | |
| --- | --- | --- |
| Market Leadtime (weeks) | : | Contact Factory |
| | | |
| --- | --- | --- |
| Market Leadtime (weeks) | : | Contact Factory |
| PandS (2020-09-14 00:00) | : | >1K |
| | | |
| --- | --- | --- |
| Market Leadtime (weeks) | : | Contact Factory |