The document you are trying to download is gated.
Log into MyON to proceed.
NCP1650: Power Factor Controller (PFC)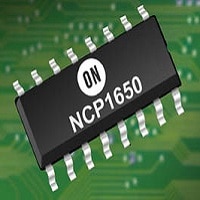 The NCP1650 is an active, power factor correction controller that can operate over a wide range of input voltages, and output power levels. It is designed to operate on 50/60 Hz power systems. This controller offers several different protection methods to assure safe, reliable operation under any conditions. The PWM is a fixed frequency, average current mode controller with a wide complement of features. These features allow for both flexibility as well as precision in it's application to a circuit. Critical components of the internal circuitry are designed for high accuracy, which allows for precise power and current limiting, therefore minimizing the amount of overdesign necessary for the power stage components. TheNCP1650 is designed with a true power limiting circuit that will maintain excellent power factor even in constant power mode. It also contains features that allow for fast transient response to changing load currents and line voltages.
Features

Fixed Frequency Operation

Continuous or Discontinuous Mode Operation

Fast Line/Load Transient Compensation

True Power Limiting Circuit

Overvoltage Limiting Comparator

Operation from 25 to 250 kHz
Applications
End Products

Servers
Industrial Equipment
Technical Documentation & Design Resources
Case Outline
NCP1650DR2G
Last Shipments
NCP1650
SOIC-16
751B-05
1
260
Tape and Reel
2500
| | | |
| --- | --- | --- |
| Market Leadtime (weeks) | : | Contact Factory |
| PandS (2020-09-14 00:00) | : | <1K |
Case Outlines
751B-05
Packages