NCP1129: High Voltage Switching Regulator for Offline SMPS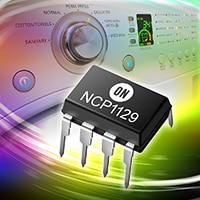 The NCP1129 switcher offers everything needed to build reliable and compact AC-DC switching power supplies with minimal surrounding elements. Incorporating an avalanche rated 650 V MOSFET, converters built with the NCP1129 can be safely designed for international conditions without jeopardizing the overall reliability.

The NCP1129 implements peak current mode control with adjustable ramp compensation that ensures stability in Continuous Conduction Mode (CCM) operation. With an external resistor, the maximum peak current is adjustable, allowing the designer the ability to inject ramp compensation to stabilize CCM power supplies.

A short circuit fault condition is independently detected from the auxiliary winding voltage resulting in improved short circuit protection with true overload detection. The Source pin provides access to the MOSFET source, allowing for overpower compensation.

With a supply range up to 26 V, the switcher also provides a jittered 65 kHz or 100 kHz switching frequency operated in peak current mode control. When the power on the secondary side starts to decrease, the switcher automatically folds back its switching frequency down to a minimum level of 26 kHz. As the power further goes down, the part enters skip cycle while limiting the peak current.
Features
Benefits

650 V Avalanche Rated MOSFET

Rugged MOSFET for robust design

FixedFrequency 65 or 100 kHz CurrentMode Control Operation

Ability to scale for efficiency or size

Frequency Foldback Down to 26 kHz and SkipCycle in Light Load Conditions

Eliminate acoustic noise and improved efficiency at light loads

Scale for various designs 5W~20W

50 ms Timer-Based Auto-Recovery Short-Circuit Protection

Provides more robust protection without worrying about the coupling of the aux winding

Frequency Jittering in Normal and Frequency Foldback Modes

Improved efficiency at light load / Improved EMI over the entire load

Option for Auto-Recovery or Latched Short-Circuit Protection

Flexible protection options

Less than 100 mW Standby Power at High Line
Applications
End Products

Power supply for DVD, STB, CD-Player
Aux supply for TV, USB, Appliance
Technical Documentation & Design Resources
| | | | |
| --- | --- | --- | --- |
| | | | Interactive Block Diagram |
Case Outline
NCP1129AP100G
Active
NCP1129, 2-Ohm, Latch
PDIP-8
626B
NA
Tube
50
$0.6556
NCP1129AP65G
Active
NCP1129, 2-Ohm, Latch
PDIP-8
626B
NA
Tube
50
$0.6556
NCP1129BP100G
Active
NCP1129, 2-Ohm, Auto-recovery
PDIP-8
626B
NA
Tube
50
$0.6556
NCP1129BP65G
Active
NCP1129, 2-Ohm, Auto-recovery
PDIP-8
626B
NA
Tube
50
$0.6556
| | | |
| --- | --- | --- |
| Market Leadtime (weeks) | : | Contact Factory |
| | | |
| --- | --- | --- |
| Market Leadtime (weeks) | : | Contact Factory |
| | | |
| --- | --- | --- |
| Market Leadtime (weeks) | : | 8 to 12 |
| ON Semiconductor (2020-09-02 00:00) | : | 14,400 |
| | | |
| --- | --- | --- |
| Market Leadtime (weeks) | : | Contact Factory |
| ON Semiconductor (2020-09-02 00:00) | : | 7,850 |
Product
Description
Pricing ($/Unit)
Compliance
Status
Control Mode
fsw Typ (kHz)
fJitter Typ (%)
Stand-by Mode
RDS(ON) Typ (Ω)
V(BR)DSS Max (V)
IPeak (mA)
HV Start-up Min (V)
DSS (mA)
UVLO
Short Circuit Protection
Over Power Compensation
Brown-out
Latch
Package Type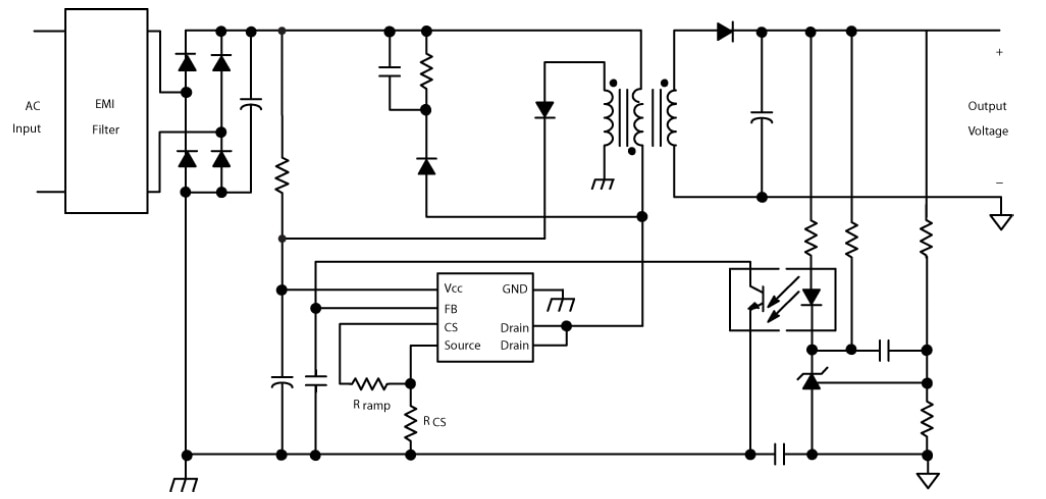 Application
Diagram - Block