The document you are trying to download is gated.
Log into MyON to proceed.
NCP1396: Controller, High Performance Resonant Mode, with High and Low Side Drivers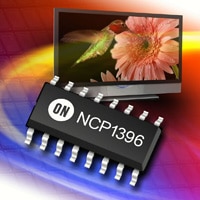 The NCP1396 A/B offer everything needed to build a reliable and rugged resonant mode power supply. Its unique architecture includes a 500 kHz Voltage Controlled Oscillator whose control mode brings flexibility when an ORing function is a necessity, e.g. in multiple feedback paths implementations. Thanks to its proprietary high-voltage technology, the controller welcomes a bootstrapped MOSFET driver for half-bridge applications accepting bulk voltages up to 600 V. Protections featuring various reaction times, e.g. immediate shutdown or timer-based event, brown-out, broken opto-coupler detection etc., contribute to a safer converter design, without engendering additional circuitry complexity. An adjustable deadtime also helps lowering the shoot-through current contribution as the switching frequency increases.
Features
Benefits

Fast and slow fault detection, broken FB loop detection

Improved fault handling and robustness

Prevents shoot-through currents and allows for optimization based on MOSFET characteristics

Prevents damage from current spikes and startup and reduces EMI

Protects against input voltage drops and simplifies PFC association
Applications
End Products

FLat Panel Display Power Converters
High Power AC/DC Adapters
Industrial and Medical Power Sources
Offline Battery Chargers

Notebook Adapters
LCD TVs
Technical Documentation & Design Resources
Case Outline
NCP1396ADR2G
Active
NCP1396
SOIC-16
751AM
1
260
Tape and Reel
2500
$0.6
NCP1396BDR2G
Active
NCP1396
SOIC-16
751AM
1
260
Tape and Reel
2500
$0.6
| | | |
| --- | --- | --- |
| Market Leadtime (weeks) | : | 13 to 16 |
| PandS (2020-09-14 00:00) | : | >1K |
| | | |
| --- | --- | --- |
| Market Leadtime (weeks) | : | 4 to 8 |
| PandS (2020-09-14 00:00) | : | >1K |
Product
Description
Pricing ($/Unit)
Compliance
Status
Topology
Control Mode
fsw Typ (kHz)
Stand-by Mode
UVLO (V)
Short Circuit Protection
Latch
Soft Start
VCC Max (V)
Drive Cap. (mA)
Package Type