The document you are trying to download is gated.
Log into MyON to proceed.
NCP1395: Controller, High Performance Resonant Mode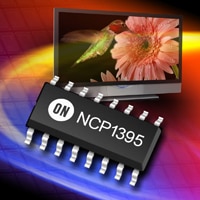 The NCP1395A/B offers everything needed to build a reliable and rugged resonant mode power supply. Its unique architecture includes a 1 MHz Voltage Controller Oscillator whose control mode brings flexibility when an ORing function is a necessity, e.g. in multiple feedback paths implementations. Protections featuring various reaction times, e.g. immediate shutdown or timer-based event, brown-out, broken opto-coupler detection etc., contribute to a safer converter design, without engendering additional circuitry complexity. An adjustable deadtime also helps lowering the shoot-through current contribution as the switching frequency increases.
Finally, an on-board operational transconductance amplifier allows for various configurations, including constant output current working mode or traditional voltage regulation.
Features

High Frequency Operation from 50 kHz up to 1.0 MHz

Selectable Minimum Switching Frequency with ±3% Accuracy

Timer-Based Input with Auto-Recovery Operation for Delayed Event Reaction

Adjustable Deadtime from 150 ns to 1.0 µs

Startup Sequence via an Adjustable Soft--Start

Brown-Out Protection for a Simpler PFC Association

Latched Input for Severe Fault Conditions, e.g. Overtemperature or OVP

Enable Input for Immediate Event reaction or Simple ON/OFF Control

Operational Transconductance Amplifier (OTA) for Multiple Feedback Loops

Low Startup Current of 300 µA max

Common Collector Optocoupler Connection
Applications
LCD/Plasma TV Converters
High Power Ac--Dc Adapters for Notebooks
Industrial and Medical Power Sources
Offline Battery Chargers
Technical Documentation & Design Resources
Case Outline
NCP1395ADR2G
Active, Not Rec
Controller, High Performance Resonant Mode
SOIC-16
751B-05
1
260
Tape and Reel
2500
$0.76
NCP1395APG
Obsolete
Controller, High Performance Resonant Mode
PDIP-16
648-08
1
260
Tube
25
NCP1395BDR2G
Active, Not Rec
Controller, High Performance Resonant Mode
SOIC-16
751B-05
1
260
Tape and Reel
2500
$0.76
NCP1395BPG
Obsolete
Controller, High Performance Resonant Mode
PDIP-16
648-08
1
260
Tube
25
| | | |
| --- | --- | --- |
| Market Leadtime (weeks) | : | 13 to 16 |
| PandS (2020-04-05 00:00) | : | >1K |
| | | |
| --- | --- | --- |
| Market Leadtime (weeks) | : | Contact Factory |
| | | |
| --- | --- | --- |
| Market Leadtime (weeks) | : | 13 to 16 |
| PandS (2020-04-05 00:00) | : | >1K |
| | | |
| --- | --- | --- |
| Market Leadtime (weeks) | : | Contact Factory |
| PandS (2020-04-05 00:00) | : | <100 |