NCP1336: Controller, Quasi-Resonant, Current Mode, with HV Start-Up
The NCP1336 hosts a high-performance circuitry aimed to powering quasi-resonant converters. Capitalizing on a novel valley-lockout system, the controller shifts gears and reduces the switching frequency as the power loading becomes lighter. This results in a stable operation despite switching events always occurring in the drain-source valley. This system works down to the 4th valley and toggles to a variable frequency mode beyond, ensuring an excellent standby power performance.
The controller takes benefit of a high-voltage start-up current source to provide a quick and lossless power-on sequence. To improve the safety in overload situations, the controller includes an Over Power Protection circuit which clamps the delivered power at high-line. Safety-wise, an adjustable timer relies on the feedback voltage to detect a fault. On version B, this fault triggers a triple-hiccup on the VCC pin which naturally reduces the average input power drawn by the converter. On version A, when a fault is detected, the controller is latched-off.
Particularly well suited for adapter applications, the controller features two latch inputs: one dedicated to Over Temperature protection (OTP) which offers an easy means to connect a pull-down temperature sensor like an NTC, and a second one more classical that can be used ot performa an accurate Over voltage Protection.
Finally, a brownout pin whcih stops the circuit operation in presence of a low mains condition is included.
Features
Benefits

Valley Switching Operation with Valley-Lockout

Improved efficiency with noise immunity

Loss-free Adjustable Over Power Protection

Limits the peak current according to input line voltage

Auto-recovery or Latched Short-Circuit Protection with adjustable timer

Versatile short circuit protection for improved reliability

Dedicated Overtemperature Protection Input

Allows direct connection to NTC for accurate OTP

Protects against drops in input mains voltage

High voltage startup current source

Provides a quick and lossless power-on sequence
Applications
End Products

High Power Ac-Dc converters

Notebook Adapters
Flat TV SMPS
Technical Documentation & Design Resources
| | | | | |
| --- | --- | --- | --- | --- |
| | | | | Interactive Block Diagram |
Case Outline
NCP1336ADR2G
Last Shipments
NCP1336
SOIC-14 NB
751AN
1
260
Tape and Reel
2500
NCP1336BDR2G
Active
NCP1336
SOIC-14 NB
751AN
1
260
Tape and Reel
2500
$0.48
| | | |
| --- | --- | --- |
| Market Leadtime (weeks) | : | Contact Factory |
| ON Semiconductor (2020-09-02 00:00) | : | 5,000 |
| | | |
| --- | --- | --- |
| Market Leadtime (weeks) | : | Contact Factory |
Product
Description
Pricing ($/Unit)
Compliance
Status
Topology
Control Mode
fsw Typ (kHz)
Stand-by Mode
UVLO (V)
Short Circuit Protection
Latch
Soft Start
VCC Max (V)
Drive Cap. (mA)
Package Type
NCP1336BDR2G
$0.48
Active
Case Outlines
751AN
Packages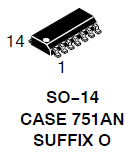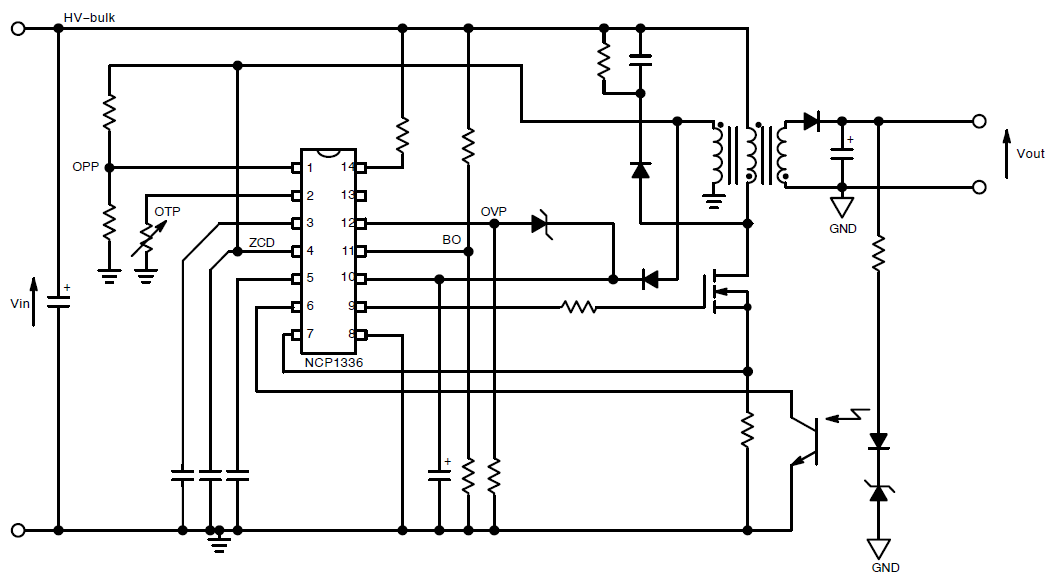 Application
Diagram - Block