The document you are trying to download is gated.
Log into MyON to proceed.
NCP1237: Controller, Fixed Frequency, Current Mode, for Flyback Converters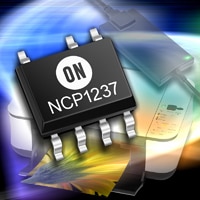 The NCP1237 is a new generation of the NCP12xx fixed-frequency current-mode controllers featuring Dynamic Self-Supply (DSS), pin to pin compatible with the previous generation. The DSS function greatly simplifies the design of the auxiliary supply and the VCC capacitor by activating the internal start-up current source to supply the controller during transients. Due to its proprietary Soft-Skip™ mode combined with frequency foldback, the controller exhibits excellent efficiency in light load condition while still achieving very low standby power consumption. This Soft-Skip feature also dramatically reduces the risk of acoustic noise, which enables the use of inexpensive transformers and capacitors in the clamping network. The NCP1237 features a dual-level timer-based fault detection that controls the amount of transient peak power that the controller can deliver for a limited time. Internal frequency jittering, ramp compensation, and a versatile latch input make this controller an excellent candidate for converters where ruggedness and components cost are the key constraints. In addition, the controller includes a new high voltage circuitry that combines a startup current source and a brown-out / line OVP detector able to sense the input voltage either from the rectified ac line or the dc filtered bulk voltage. Finally, due to a careful design, the precision of critical parameters is well controlled over the entire temperature range (-40°C to +125°C), enabling easier design and increased safety (e.g. ±5% for the peak current limit, ±7% for the oscillator).
Features
Benefits

Timer-Based Transient Power and Overload Protections with AutoRecovery (Option B) or Latched (Option A) Operation

Overload protection independent of the auxiliary winding

Frequency Foldback transitioning into Soft-Skip

Improved Performance in Standby

High-Voltage Current Source with DSS with Built-in Brown-out and Line Overvoltage Protections

Fixed-Frequency Current-Mode Operation with Built-in Ramp Compensation

Adjustable Overpower Compensation

Latch-off Input for Severe Fault Conditions, with Direct Connection of an NTC for Overtemperature Protection (OTP)

Protection Against Winding Short-Circuit

65 kHz Oscillator (100 kHz and 133 kHz Versions Available Upon Request)

Increased Precision on Critical Parameters

±1.0 A Peak Current Drive Capability

Internal Thermal Shutdown with Hysteresis

These Devices are Pb-Free, Halogen free/BFR free and are ROHS compliant
Applications
Ac-dc Adapters for Notebooks, LCD, and Printers
Offline Battery Chargers
Consumer Electronic Power Supplies
Auxiliary/Housekeeping Power Supplies
Technical Documentation & Design Resources
Case Outline
NCP1237AD65R2G
Lifetime
Controller, Fixed Frequency, Current Mode, for Flyback Converters
SOIC-7
751U
1
260
Tape and Reel
2500
$0.6667
NCP1237BD65R2G
Last Shipments
Controller, Fixed Frequency, Current Mode, for Flyback Converters
SOIC-7
751U
1
260
Tape and Reel
2500
| | | |
| --- | --- | --- |
| Market Leadtime (weeks) | : | Contact Factory |
| | | |
| --- | --- | --- |
| Market Leadtime (weeks) | : | Contact Factory |
Case Outlines
751U
Packages