NCP1234: Controller, Fixed Frequency, Current Mode, for Flyback Converters
NCP1234 is a new fixed-frequency current-mode controller featuring Dynamic Self-Supply (DSS). This device is pin-to-pin compatible with the previous NCP12xx families.
The DSS function greatly simplifies the design of the auxiliary supply and the VCC capacitor by activating the internal startup current source to supply the controller during transients.
Due to frequency foldback, the controller exhibits excellent efficiency in light load condition while still achieving very low standby power consumption. Internal frequency jittering, ramp compensation, and a versatile latch input make this controller an excellent candidate for converters where component cost is the key constraint.
It features a timer-based fault detection that ensures the detection of overload independently of an auxiliary winding, and an adjustable compensation to help keep the maximum power independent of the input voltage.
Features
Benefits

Frequency Foldback then Skip Mode in light load and standby conditions

High efficiency in light and no load conditions

High voltage current source with brown-out detection and dynamic self-supply

Directly powered from the high voltage rail with integrated brown-out sensing to detect low input voltage

Helps pass EMI requirements by spreading out the energy content of frequency peaks

Minimizes the stress on power components

Adjustable Overpower Compensation

Monitors the input voltage to limit the amount of power being delivered by the converter

Latched / Autorecovery Timer-Based Overload Protection

Protects against overcurrent
Applications
End Products

Consumer Electronics Power Supplies
Auxiliary/Housekeeping power supplies
Technical Documentation & Design Resources
| | | | | |
| --- | --- | --- | --- | --- |
| | | | | Interactive Block Diagram |
Case Outline
NCP1234AD100R2G
Active
NCP1234
SOIC-7
751U
1
260
Tape and Reel
2500
$0.424
NCP1234AD65R2G
Active
NCP1234
SOIC-7
751U
1
260
Tape and Reel
2500
$0.424
NCP1234BD100R2G
Active
NCP1234
SOIC-7
751U
1
260
Tape and Reel
2500
$0.424
NCP1234BD65R2G
Active
NCP1234
SOIC-7
751U
1
260
Tape and Reel
2500
$0.424
| | | |
| --- | --- | --- |
| Market Leadtime (weeks) | : | Contact Factory |
| | | |
| --- | --- | --- |
| Market Leadtime (weeks) | : | Contact Factory |
| PandS (2020-09-14 00:00) | : | >1K |
| | | |
| --- | --- | --- |
| Market Leadtime (weeks) | : | Contact Factory |
| PandS (2020-09-14 00:00) | : | >1K |
| | | |
| --- | --- | --- |
| Market Leadtime (weeks) | : | Contact Factory |
| PandS (2020-09-14 00:00) | : | >1K |
Product
Description
Pricing ($/Unit)
Compliance
Status
Topology
Control Mode
fsw Typ (kHz)
Stand-by Mode
UVLO (V)
Short Circuit Protection
Latch
Soft Start
VCC Max (V)
Drive Cap. (mA)
Package Type
Case Outlines
751U
Packages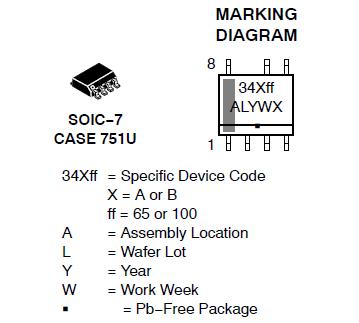 Application
Diagram - Block