NCP1219: PWM Controller with Adjustable Skip Level and External Latch Input
The NCP1219 represents a new, pin to pin compatible, generation of the successful 7-pin current mode NCP12XX product series. The controller allows for excellent standby power consumption by use of its adjustable skip mode and integrated high voltage startup FET. Internal frequency jittering, ramp compensation, timer-based fault detection and a latch input make this controller an excellent candidate for converters where ruggedness and component cost are the key constraints.
The Dynamic Self Supply (DSS) drastically simplifies the transformer design in avoiding the use of an auxiliary winding to supply the NCP1219. This feature is particularly useful in applications where the output voltage varies during operation (e.g. battery chargers). Due to its high voltage technology, the IC can be directly connected to the high voltage dc rail.
Features
Benefits

Improved efficiency at light loads and standby conditions

Internal High Voltage Startup Circuit

Clean and loss less start-up sequence and reduces component count

Latch Input for Easy Implementation of Overvoltage and Overtemperature Protection

Fixed-Frequency Current-Mode Operation with Ramp Compensation (65 kHz and 100 kHz Options)

Dynamic Self Supply Eliminates the Need for an Auxiliary Winding

Timer-Based Fault Protection for Improved Overload Detection

Latch and Auto-Recovery Overload Protection Options

Accurate Current Limit Detector (±5%)

Frequency Modulation for Softened EMI Signature

500 mA/800 mA Peak Source/Sink Current Drive Capability

Pin to Pin Compatible with the Existing NCP12XX Series

This is a Pb-Free and Halide-Free Device
Applications
End Products

AC-DC Adapters
Consumer Electronic Power Supplies

Offline Battery Chargers
STB, DVD, DVDR
Notebooks
LCD Monitors
Printers
Technical Documentation & Design Resources
| | | | | |
| --- | --- | --- | --- | --- |
| | | | | Interactive Block Diagram |
Case Outline
NCP1219AD100R2G
Active
NCP1219
SOIC-7
751U
1
260
Tape and Reel
2500
$0.56
NCP1219AD65R2G
Active
NCP1219
SOIC-7
751U
1
260
Tape and Reel
2500
$0.56
NCP1219BD100R2G
Lifetime
NCP1219
SOIC-7
751U
1
260
Tape and Reel
2500
$0.4213
NCP1219BD65R2G
Active
NCP1219
SOIC-7
751U
1
260
Tape and Reel
2500
$0.56
| | | |
| --- | --- | --- |
| Market Leadtime (weeks) | : | Contact Factory |
| PandS (2020-09-14 00:00) | : | >1K |
| | | |
| --- | --- | --- |
| Market Leadtime (weeks) | : | Contact Factory |
| PandS (2020-09-14 00:00) | : | <1K |
| | | |
| --- | --- | --- |
| Market Leadtime (weeks) | : | Contact Factory |
| PandS (2020-09-14 00:00) | : | >1K |
| ON Semiconductor (2020-09-02 00:00) | : | 107,500 |
| | | |
| --- | --- | --- |
| Market Leadtime (weeks) | : | Contact Factory |
| PandS (2020-09-14 00:00) | : | <100 |
Product
Description
Pricing ($/Unit)
Compliance
Status
Topology
Control Mode
fsw Typ (kHz)
Stand-by Mode
UVLO (V)
Short Circuit Protection
Latch
Soft Start
VCC Max (V)
Drive Cap. (mA)
Package Type
NCP1219AD100R2G
$0.56
Active
NCP1219AD65R2G
$0.56
Active
NCP1219BD65R2G
$0.56
Active
Case Outlines
751U
Packages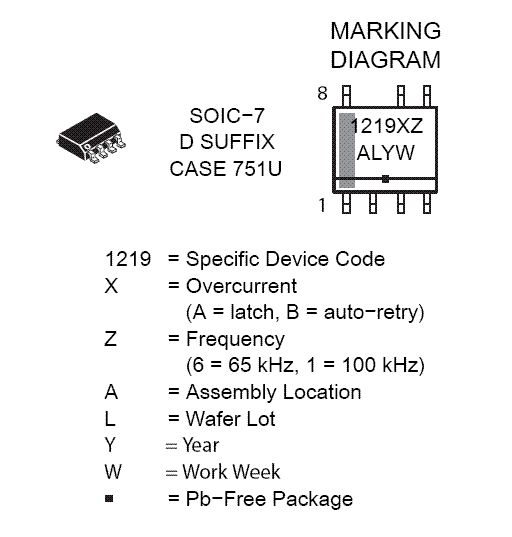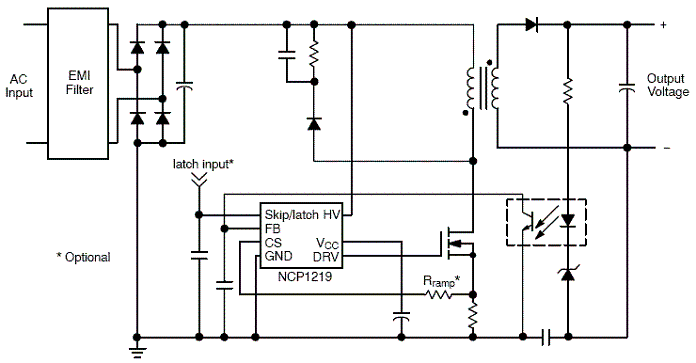 Application
Diagram - Block