CAT24M01: EEPROM Serial 1-Mb I2C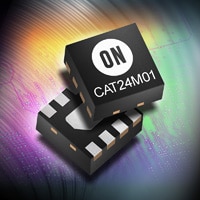 The CAT24M01 is a EEPROM Serial 1-Mb I2C, internally organized as 131,072 words of 8 bits each.

It features a 256-byte page write buffer and supports the Standard (100 kHz), Fast (400 kHz) and Fast-Plus (1 MHz) I2C protocol.

Write operations can be inhibited by taking the WP pin High (this protects the entire memory).

External address pins make it possible to address up to four CAT24M01 devices on the same bus.

On-Chip ECC (Error Correction Code) makes the device suitable for high reliability applications.
Features
Benefits

Supports Standard, Fast and Fast-Plus I2C Protocol

Simple interface protocol / industry standard; 1MHz clock enables faster operation.

1.8 V to 5.5 V Supply Voltage Range

Single power supply from 1.8V to 5.5V: allows multiple applications / various VCC values using the same device.

256-Byte Page Write Buffer

Hardware Write Protection for Entire Memory

Schmitt Triggers and Noise Suppression Filters on I2C Bus Inputs (SCL and SDA)

Low Power CMOS Technology

1,000,000 Program/Erase Cycles

Industrial and Extended Temperature Range

8-lead SOIC and TSSOP and 8-pad UDFN packages

These Devices are Pb-Free, Halogen Free/BFR Free and are RoHS Compliant
Technical Documentation & Design Resources
Case Outline
CAT24M01HU5I-GT3
Active
CAT24M01
UDFN-8
517BU
1
260
Tape and Reel
3000
$1.1866
CAT24M01WI-GT3
Active
CAT24M01
SOIC-8
751BD
1
260
Tape and Reel
3000
$0.84
CAT24M01XI-T2
Active
CAT24M01
SOIC-8
751BE
3
260
Tape and Reel
2000
$1.1733
CAT24M01YI-GT3
Active
CAT24M01
TSSOP-8
948AL
1
260
Tape and Reel
3000
$0.8666
| | | |
| --- | --- | --- |
| Market Leadtime (weeks) | : | 8 to 12 |
| FutureElectronics (2020-08-19 00:00) | : | >1K |
| | | |
| --- | --- | --- |
| Market Leadtime (weeks) | : | Contact Factory |
| FutureElectronics (2020-08-19 00:00) | : | >1K |
| Avnet (2020-08-19 00:00) | : | >1K |
| | | |
| --- | --- | --- |
| Market Leadtime (weeks) | : | 4 to 8 |
| | | |
| --- | --- | --- |
| Market Leadtime (weeks) | : | 8 to 12 |
Product
Description
Pricing ($/Unit)
Compliance
Status
Type
Density
Organization
Data Transmission Standard
fcycle Max (kHz)
tACC Max ns
VCC Min (V)
VCC Max (V)
Istandby Max (µA)
Iact Max (mA)
T Min (°C)
T Max (°C)
Package Type