NCP370: Full Overvoltage and Overcurrent Protection Circuit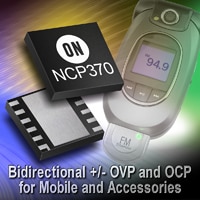 The NCP370 is an overvoltage, overcurrent and reverse control device. Two main modes are available by setting logic pins.
First mode is Direct Mode from Wall Adapter to the system. In this mode the system is both positive and negative overvoltage protected up to +28 V and down to -28 V. The wall adapter is disconnected from the system if the input voltage exceeds the overvoltage (OVLO) or undervoltage (UVLO) thresholds. At powerup, the Vout turns on 30 ms after the Vin exceeds the undervoltage threshold.
The second mode, called the Reverse Mode, allows an external accessory to be powered by the system battery or a boost converter. Here, the external accessory would be connected to the device input (bottom connector of system) and the device battery would be at the device output. In this case, overcurrent protection is activated to prevent accessory faults and battery discharge. Thanks to the NCP370 using an internal NMOS, the system cost and the PCB area of the application board are minimized. The NCP370 provides a negative going flag (FLAG(BAR)) output which alerts the system that a fault has occurred. In addition, the device has ESD protected input (15 kV Air) when bypassed with a 1.0 µF or larger capacitor.
Features

Overvoltage Protection up to 28 V

Overvoltage Protection down to -28 V

On-Chip Low RDS(on) NMOS Transistor: 135 mohm

Overvoltage Lockout (OVLO)

Undervoltage Lockout (UVLO)

Direct mode DIR(BAR) Input

Reverse mode REV(BAR) Input

Reverse Overcurrent protection

Compliance to IEC61000-4-2 (Level 4), 8.0 kV (Contact), and 15 kV (Air)
Applications
Cell Phones, Camera Phones, Digital Still Cameras, Personal Digital Applications, and MP3 Players
Technical Documentation & Design Resources
Evaluation/Development Tool Information
| Product | Status | Compliance | Short Description | Action |
| --- | --- | --- | --- | --- |
| NCP370GEVB | Active | | Overvoltage, Overcurrent & Reverse Control Device Evaluation Board | |
Case Outline
NCP370MUAITXG
Lifetime
NCP370, OVLO 6.6 V, reverse OCP 1.75 A
LLGA-12
513AK
1
260
Tape and Reel
3000
$0.5333
| | | |
| --- | --- | --- |
| Market Leadtime (weeks) | : | Contact Factory |
| PandS (2020-09-14 00:00) | : | >1K |
Application
Diagram - Block
Your request has been submitted for approval.
Please allow 2-5 business days for a response.
You will receive an email when your request is approved.
Request for this document already exists and is waiting for approval.