NCP347: Positive Overvoltage Protection Circuit with Internal Low Ron NMOS FET and Status Flag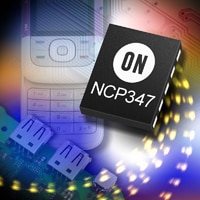 The NCP347 is able to disconnect the systems from its output pin in case wrong input operating conditions are detected. The system is positive overvoltage protected up to +28 V.
Due to this device using internal NMOS, no external device is necesary, reducing the system cost and the PCB area of the application board.
The NCP347 is able to instantaneously disconnect the output from the input, due to integrated Low Ron Power NMOS (65 mΩ, if the input voltage exceeds the overvoltage threshold (5.63 or 5.9 or 7.2 V) or undervoltage threshold, of 2.95 V (UVLO).
At powerup (EN(BAR) pin = low level), the Vout turns on 50 ms after the Vin exceeds the undervoltage threshold.
The NCP347 provides a negative going flag(FLAG(BAR)) output, which alerts the system that a fault has occurred.
In addition, the device has ESD-protected input (15 kV Air) when bypassed with a 1.0 µF or larger capacitor.
Features

Overvoltage Protection up to 28 V

On-Chip Low RDS(on) NMOS Transistor: 80 m

Overvoltage Lockout (OVLO)

Undervoltage Lockout (UVLO)

Internal 50 ms Startup Delay

Compliance to IEC61000-4-2 (Level 4), 8.0 kV (Contact), and 15 kV (Air)

ESD Ratings: Machine Model = B, Human Body Model = 3
Applications
Cell Phones, Camera Phones, Digital Still Cameras, Personal Digital Applicaitons, and MP3 Players
Technical Documentation & Design Resources
Case Outline
NCP347MTAETBG
Active
NCP347, OVLO 5.63 V
WDFN-10
516AA
1
260
Tape and Reel
3000
$0.3333
NCP347MTAFTBG
Active
NCP347, OVLO 5.9 V
WDFN-10
516AA
1
260
Tape and Reel
3000
$0.3333
NCP347MTAHTBG
Last Shipments
NCP347, OVLO 7.2 V
WDFN-10
516AA
1
260
Tape and Reel
3000
NCP347MTAITBG
Obsolete
NCP347, OVLO 5.85 V
WDFN-10
516AA
1
260
Tape and Reel
3000
| | | |
| --- | --- | --- |
| Market Leadtime (weeks) | : | 17 to 20 |
| PandS (2020-09-14 00:00) | : | >1K |
| | | |
| --- | --- | --- |
| Market Leadtime (weeks) | : | 4 to 8 |
| PandS (2020-09-14 00:00) | : | >1K |
| | | |
| --- | --- | --- |
| Market Leadtime (weeks) | : | Contact Factory |
| | | |
| --- | --- | --- |
| Market Leadtime (weeks) | : | Contact Factory |
Product
Description
Pricing ($/Unit)
Compliance
Status
VCC Min (V)
VCC Max (V)
P(AV) Max (W)
VIT+ Typ (V)
VIT Typ (V)
IDDH Max (µA)
TA Min (°C)
TA Max (°C)
Package Type
NCP347MTAETBG
$0.3333
Active
NCP347MTAFTBG
$0.3333
Active