The document you are trying to download is gated.
Log into MyON to proceed.
NVTFS5826NL: Power MOSFET 60V, 20A, 24 mOhm, Single N-Channel, u8FL, Logic Level.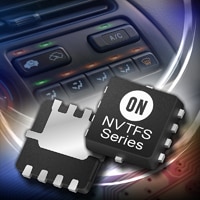 Automotive Power MOSFET in a 3x3mm flat lead package designed for compact and efficient designs and including high thermal performance. Wettable Flank Option available for Enhanced Optical Inspection. AEC-Q101 Qualified MOSFET and PPAP capable suitable for automotive applications.
Features
Benefits

Minimal conduction losses

Safeguard against voltage overstress failures

Suitable for automotive applications
Applications
End Products

Motor driver
Solenoid Driver
Lamp Driver

Automotive engine controllers
Automotive body controllers
Technical Documentation & Design Resources
Case Outline
NVTFS5826NLTAG
Active

AEC Qualified
PPAP Capable
Pb-free
Halide free

Power MOSFET 60V, 20A, 24 mOhm, Single N-Channel, u8FL, Logic Level.
WDFN-8 / u8FL
511AB
1
260
Tape and Reel
1500
Contact Sales Office
NVTFS5826NLTWG
Active

AEC Qualified
PPAP Capable
Pb-free
Halide free

Power MOSFET 60V, 20A, 24 mOhm, Single N-Channel, u8FL, Logic Level.
WDFN-8 / u8FL
511AB
1
260
Tape and Reel
5000
Contact Sales Office
NVTFS5826NLWFTAG
Active

AEC Qualified
PPAP Capable
Pb-free
Halide free

Power MOSFET 60V, 20A, 24 mOhm, Single N-Channel, u8FL, Logic Level.
WDFN-8 / u8FL
511AB
1
260
Tape and Reel
1500
Contact Sales Office
NVTFS5826NLWFTWG
Active

AEC Qualified
PPAP Capable
Pb-free
Halide free

Power MOSFET 60V, 20A, 24 mOhm, Single N-Channel, u8FL, Logic Level.
WDFN-8 / u8FL
511AB
1
260
Tape and Reel
5000
Contact Sales Office
| | | |
| --- | --- | --- |
| Market Leadtime (weeks) | : | 17 to 20 |
| | | |
| --- | --- | --- |
| Market Leadtime (weeks) | : | 17 to 20 |
| | | |
| --- | --- | --- |
| Market Leadtime (weeks) | : | 17 to 20 |
| | | |
| --- | --- | --- |
| Market Leadtime (weeks) | : | 17 to 20 |
Product
Description
Pricing ($/Unit)
Compliance
Status
Channel Polarity
Configuration
V(BR)DSS Min (V)
VGS Max (V)
VGS(th) Max (V)
ID Max (A)
PD Max (W)
RDS(on) Max @ VGS = 2.5 V (mΩ)
RDS(on) Max @ VGS = 4.5 V (mΩ)
RDS(on) Max @ VGS = 10 V (mΩ)
Qg Typ @ VGS = 4.5 V (nC)
Qg Typ @ VGS = 10 V (nC)
Ciss Typ (pF)
Package Type
Case Outlines
511AB
Packages