Overview
Products
Technical Documentation
The portfolio of IGBTs from ON Semiconductor offers an optimum performance by balancing VCE(sat) and Eoff losses and controllable turnoff Vce overshoot. The IGBT portfolio offers maximum reliability and performance from positive temperature co-efficient, low saturation voltage (VCE(sat)), very low switching and conduction losses, and fast switching. These IGBTs are well suited for high performance power conversion applications (PFC), DC-DC converters, industrial inverters, UPS, and EV charging stations. The portfolio also includes AEC-Q101 Qualified and PPAP Capable options specifically engineered and qualified for automotive industry applications.
EV Traction Inverter IGBTs
ON Semiconductor's portfolio of Field Stop 3 IGBTs for EV traction inverter application.
Automotive IGBTs
ON Semiconductor's portfolio of IGBTs for automtoive applications.
Non-Automotive IGBTs
ON Semiconductor's portfolio of IGBTs for non-automtoive applications.
VE-Trac Chip, Bare Die
ON Semiconductor's VE-Trac, IGBT Bare Dies for automotive application.
ECOSPARK 1, 2, 3 IGBTs
ON Semiconductor's portfolio of IGBTs optimized for driving the coil in the harsh environment of automotive ignition systems.
Shorted-anode IGBTs
ON Semiconductor's portfolio of shorted-anode trench IGBTs offer superior conduction and switching performances for soft switching applications.
Induction Heating IGBTs
This technology provides superior performance in demanding switching applications and is optimized for induction heating solutions.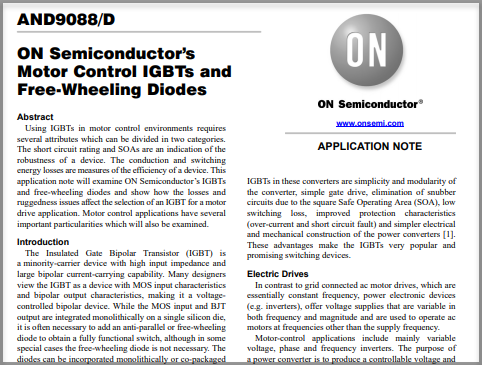 Application Note
ON Semiconductor's Motor Control IGBTs and Free‐Wheeling Diodes
Using IGBTs in motor control environments requires several attributes which can be divided in two categories. The short circuit rating and SOAs are an indication of the robustness of a device. The conduction and switching energy losses are measures of the efficiency of a device. This application note will examine ON Semiconductor's IGBTs and free-wheeling diodes and show how the losses and ruggedness issues affect the selection of an IGBT for a motor drive application.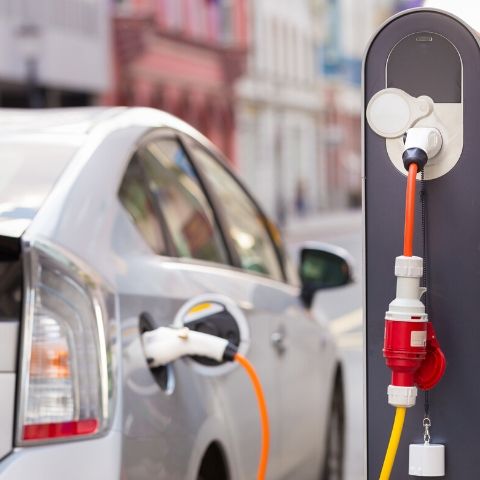 Blog
Electric Vehicles Powered by Power Modules VE-Trac Direct and VE-Trac Dual
Interview with Jonathan Liao one of our product line managers responsible for the VE-Trac direct and dual product family...