NCP5901B: MOSFET Driver, VR12 Compatible, Synchronous Buck
NCP5901 is a high performance dual MOSFET driver optimized to drive the gates of both high- and low-side power MOSFETs in a synchronous buck converter. It can drive up to a 3.0 nF load with a 25 ns propagation delay and 20 ns transition time.
Adaptive anti-cross-conduction and power saving operation circuit can provide a low switching loss and high efficiency solution for notebook and desktop systems. Bidirectional EN pin can provide a fault signal to controller when the gate driver fault detect under OVP, UVLO occur. Also, an undervoltage lockout function guarantees the outputs are low when supply voltage is low.
Features

Adaptive anti-cross-conduction circuit
| Applications | | End Products |
| --- | --- | --- |
| | | |
Technical Documentation & Design Resources
Evaluation/Development Tool Information
| Product | Status | Compliance | Short Description | Action |
| --- | --- | --- | --- | --- |
| DUALASYMB12VGEVB | Active | | Single Phase Buck Converter Dual Asymmetrical BG Evaluation Board | |
| ONS321B12VGEVB | Active | | 12 Vgs MOSFET Evaluation Board | |
| | | | | |
| --- | --- | --- | --- | --- |
| | | | | Interactive Block Diagram |
Case Outline
NCP5901BDR2G
Active
NCP5901B
SOIC-8
751-07
1
260
Tape and Reel
2500
$0.1689
NCP5901BMNTBG
Active
NCP5901B
DFN-8
506AA
1
260
Tape and Reel
3000
$0.1689
| | | |
| --- | --- | --- |
| Market Leadtime (weeks) | : | Contact Factory |
| | | |
| --- | --- | --- |
| Market Leadtime (weeks) | : | 8 to 12 |
| ON Semiconductor (2020-09-02 00:00) | : | 150,000 |
Product
Description
Pricing ($/Unit)
Compliance
Status
Power Switch
Number of Outputs
Topology
Isolation Type
Vin Max (V)
VCC Max (V)
Rise Time (ns)
Fall Time (ns)
Drive Source Current Typ (A)
Drive Sink Current Typ (A)
Turn On Prop. Delay Typ (ns)
Turn Off Prop. Delay Typ (ns)
Delay Matching
Package Type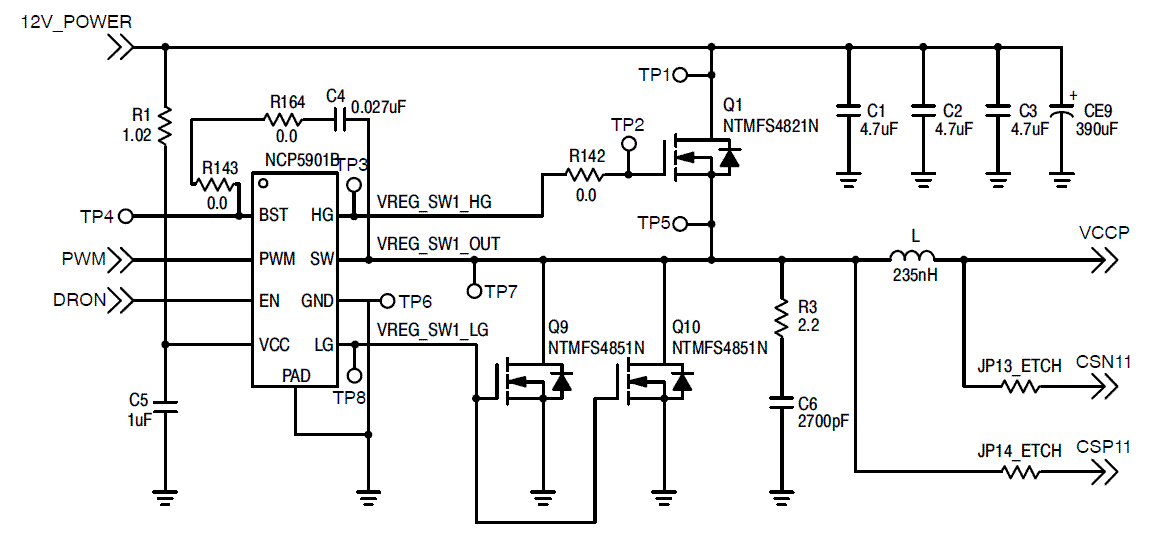 Application
Diagram - Block