NCS36510: Low Power System-on-Chip For 2.4 GHz IEEE 802.15.4 Applications Including Zigbee®, Thread®, and Proprietary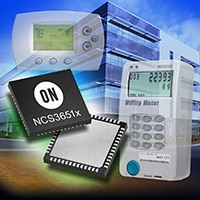 The NCS36510 is a low power, fully integrated, System on Chip that integrates a 2.4 GHz IEEE 802.15.4 compliant transceiver, ARM® Cortex®−M3 microprocessor, RAM and FLASH memory, a true random number generator, and multiple peripherals to support design of a complete and secure wireless network with minimal external components.
The NCS36510 offers advanced power management techniques that allow operation down to supply voltages as low as 1 V while minimizing current consumption. The NCS36510 is specifically designed for applications requiring maximum battery life while minimizing cost. The NCS36510 incorporates an industry leading 32 bit ARM Cortex−M3 for high performance, low power and low cost processing.
The NCS36510 includes 640 kB of embedded FLASH memory for program storage along with 48 kB of RAM for data storage. NCS36510 uses a hardware accelerated MAC to minimize processor overhead while maximizing available processor power for running application software.
Peripherals include DMA, UART(2), SPI(2), I2C(2), PWM, RTC, three programmable timers, WDT, 18 GPIO, 10 bit ADC with four external inputs and integrated temperature and voltage sensors.
Available software includes an 802.15.4 MAC layer demo application, a Zigbee 3.0 certified stack with example applications, and a Thread demo. All available software is linked below in the software section.
Features
Benefits

Low Voltage Operation (as low as 1.0V)

Enables Alternative Energy Sources (ex. energy harvesting, low voltage batteries)

Ultra-Low Transmit Power Consumption (as low as 6.9mW)


Extended Battery Life, Energy Conservation

Ultra-Low Receive Power Consumption (as low as 6.6mW)

Extended Battery Life, Energy Conservation

Multiple Sleep Modes (Including 0.65 µA Coma Mode Sleep Current, 0.18 µA Coma Mode Leakage Current)

Extended Battery Life, Energy Conservation

Increases Link Budget ~6 dB

Embedded Memory Configurations (640 kB FLASH and 48kB RAM)

Exceptional Receiver Sensitivity of -99 dBm


Programmable Output Power Up to ~8 dBm


Supports external LNA & PA

2.4 GHz IEEE 802.15.4−2006 Transceiver PHY and MAC

32-bit ARM Cortex−M3 Processor

Hardware AES 256 / 128 Encryption Engine with True Random Number Generator
Applications
End Products

Internet of Things (IOT)
IEEE 802.15.4 Applications
Connected Home - Security, Automation, and Lighting
Building and Industrial Automation
Smart Grid Applications
ZigBee / 6LoWPAN / Thread / WirelessHART / ISA100 Wireless Applications
Consumer Electronics

Energy Harvesting and/or Battery Powered Sensor Nodes
Smart Meters
Thermostats
Electronic Security Devices & Controls (Door Locks, etc.)
Smoke/Carbon-Monoxide Detectors & Alarms
Smart Lighting Devices & Controls
HVAC Systems and Controls
Irrigation Sensors & Controls
Industrial Control & Monitoring Devices
Appliances
Technical Documentation & Design Resources
Evaluation/Development Tool Information
| Product | Status | Compliance | Short Description | Action |
| --- | --- | --- | --- | --- |
| BB-GEVK | Active | | IoT Development Kit Base Board (with WiFi and LCD) Evaluation Board | |
| NCS36510GEVK | Active | | Low Power System-on-Chip For 2.4 GHz IEEE 802.15.4-2006 Applications Evaluation Kit | |
| STR-NCS36510-ZB-EH-1-GEVK | Active | | Strata Enabled Zigbee® Green Power Kit | |
| | | |
| --- | --- | --- |
| FutureElectronics (2020-08-19) | : | 2 |
Case Outline
NCS36510MNTXG
Active
NCS36510
QFN-40
488AR
3
260
Tape and Reel
3000
$2.8369
| | | |
| --- | --- | --- |
| Market Leadtime (weeks) | : | 17 to 20 |
Product
Description
Pricing ($/Unit)
Compliance
Status
Data Transmission Standard
Frequency Band (MHz)
Carrier Frequency (MHz)
Package Type
NCS36510MNTXG
$2.8369
Active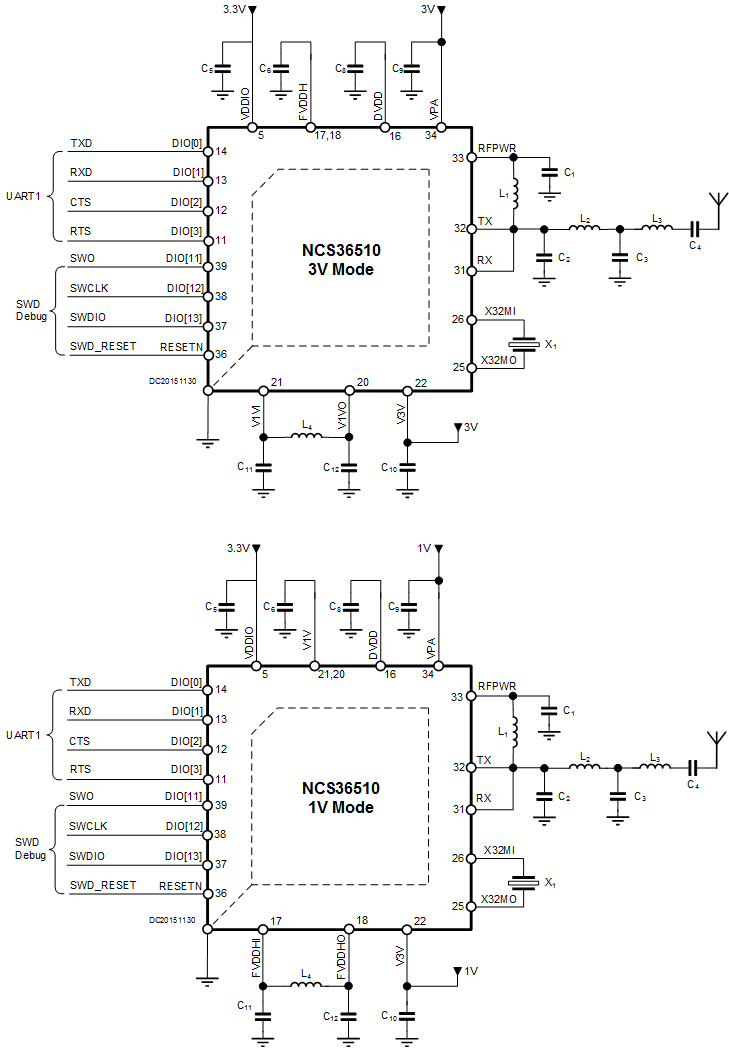 Your request has been submitted for approval.
Please allow 2-5 business days for a response.
You will receive an email when your request is approved.
Request for this document already exists and is waiting for approval.