NCV7381: FlexRay® Transceiver, Clamp 30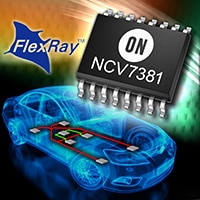 NCV7381 is a single-channel FlexRay transceiver compliant with the FlexRay Electrical Physical Layer Specification Rev. 3.0.1, capable of communicating at speeds of up to 10 Mbit/s. It provides differential transmit and receive capability between a wired FlexRay communication medium on one side and a protocol controller and a host on the other side.
NCV7381 mode control functionality is optimized for nodes permanently connected to car battery.
It offers excellent EMC and ESD performance.
Features

Compliant with FlexRay Electrical Physical Layer Specification
Rev 3.0.1

FlexRay Transmitter and Receiver in Normal-power Modes for
Communication up to 10 Mbit/s

Support of 60 ns Bit Time

FlexRay Low-power Mode Receiver for Remote Wakeup Detection

Excellent Electromagnetic Susceptibility (EMS) Level over Full
Frequency Range. Very Low Electromagnetic Emissions (EME)

Bus Pins Protected against >10 kV System ESD Pulses

Safe Behavior under Missing Supply or No Supply Conditions

Interface Pins for a Protocol Controller and a Host
(TxD, RxD, TxEN, RxEN, STBN, BGE, EN, ERRN)

INH Output for Control of External Regulators

Supply Pins VBAT, VCC, VIO with Independent Voltage Ramp Up:
- VBAT Supply Parametrical Range from 5.5 V to 50 V
- VCC Supply Parametrical Range from 4.75 V to 5.25 V
- VIO Supply Parametrical Range from 2.3 V to 5.25 V

Compatible with 14 V and 28 V Systems

Operating Ambient Temperature -40C to +125C (TAMB_Class1)

Junction Temperature Monitoring with Two Levels

FlexRay Functional Classes
- Bus Driver Voltage Regulator Control
- Bus Driver Bus Guardian Interface
- Bus Driver Logic Level Adaptation
- Bus Driver Remote Wakeup

Automotive Qualification According to AECQ100
Applications
End Products

In Vehicle Networking
Powertrain
X-by-Wire
Safety
Technical Documentation & Design Resources
Evaluation/Development Tool Information
| Product | Status | Compliance | Short Description | Action |
| --- | --- | --- | --- | --- |
| NCV7381A0V2GEVB | Active | | FlexRay ® Transceiver, Clamp 30 Evaluation Board | |
| NCV7381AGEVK | Active | | FlexRay ® Transceiver, Clamp 30 Evaluation Kit | |
Case Outline
NCV7381ADP0R2G
Active

AEC Qualified
PPAP Capable
Pb-free
Halide free

NCV7381
SSOP-16
565AE
2
260
Tape and Reel
2000
Contact Sales Office
| | | |
| --- | --- | --- |
| Market Leadtime (weeks) | : | Contact Factory |
Product
Description
Pricing ($/Unit)
Compliance
Status
Data Transmission Standard
Data Rate
Number of Drivers
Number of Receivers
VCC Min (V)
VCC Max (V)
tPLH Max (µs)
IO Max (µA)
IIH Max (mA)
Package Type
Case Outlines
565AE
Packages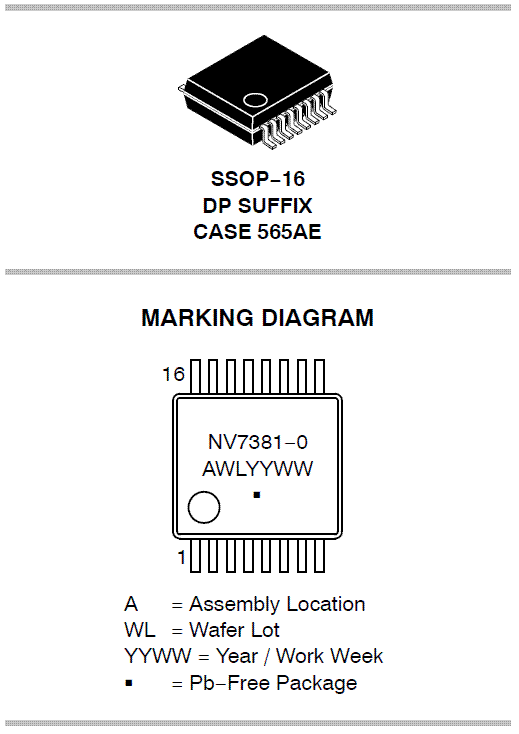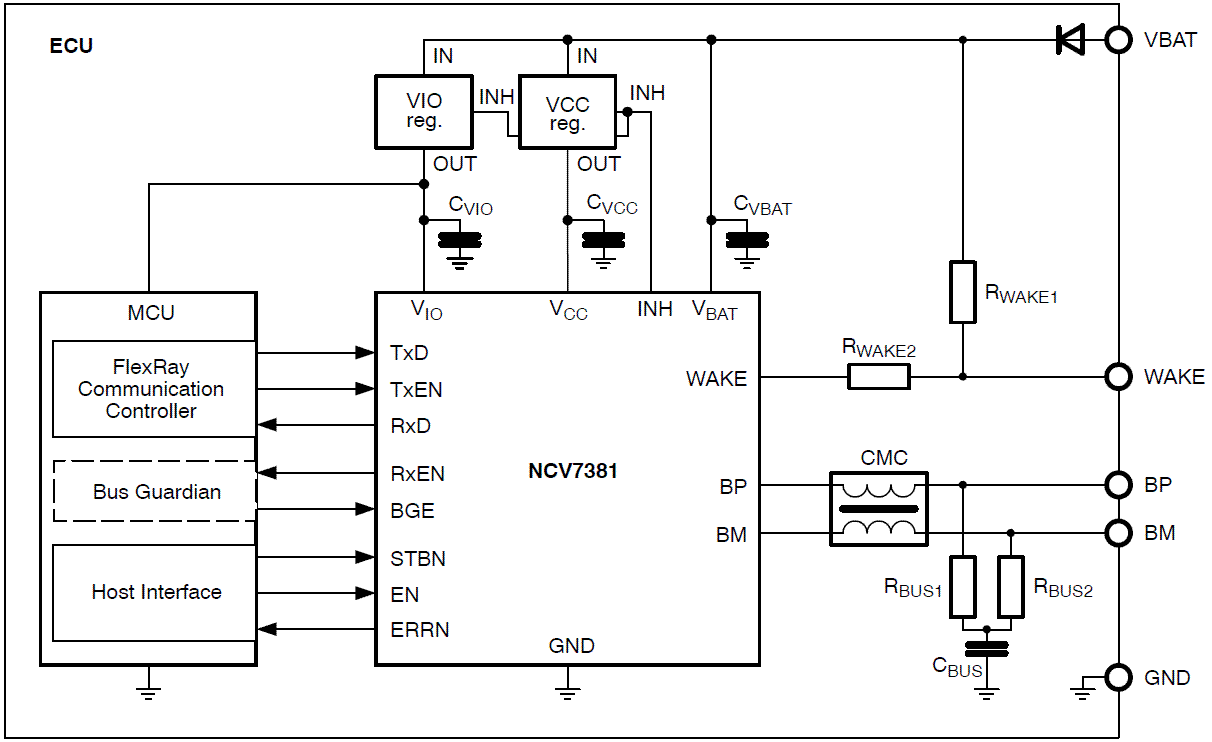 Associated Products
Do you need a device with Connectivity to Clamp 15 ECUs?
NCV7383