The document you are trying to download is gated.
Log into MyON to proceed.
NCV7340: CAN Transceiver, High Speed, Low Power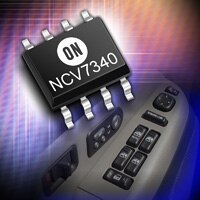 The NCV7340 CAN transceiver is the interface between a controller area network (CAN) protocol controller and the physical bus and may be used in both 12 V and 24 V systems. The transceiver provides differential transmit capability to the bus and differential receive capability to the CAN controller.
The NCV7340 is a new addition to the CAN high-speed transceiver family and is an improved drop-in replacement for the AMIS-42665 (AMIS42665TJAA1RG).
Due to the wide common-mode voltage range of the receiver inputs, the NCV7340 is able to reach outstanding levels of electromagnetic susceptibility (EMS). Similarly, extremely low electromagnetic emission (EME) is achieved by the excellent matching of the output signals.
Features

Compatible with the ISO 11898 Standard (ISO 11898 and SAE J2284)

High Speed (up to 1 Mbps)

Ideally Suited for 12 V and 24 V Industrial and Automotive Applications

Extremely Low Current Standby Mode with Wakeup via the Bus

Low EME CommonMode Choke is No Longer Required

Voltage Source via VSPLIT Pin for Stabilizing the Recessive Bus Level (Further EMC Improvement)

No Disturbance of the Bus Lines with an Unpowered Node

Transmit Data (TxD) Dominant Timeout Function

Bus Pins Protected Against Transients in an Automotive Environment

Bus and VSPLIT Pins ShortCircuit Proof to Supply Voltage and Ground

Logic Level Inputs Compatible with 3.3 V Devices

Up to 110 Nodes can be Connected to the Same Bus in Function of Topology
Applications
End Products

In-Vehicle Networking
Industrial Networking

Automobiles
Industrial Equipment
Technical Documentation & Design Resources
Evaluation/Development Tool Information
| Product | Status | Compliance | Short Description | Action |
| --- | --- | --- | --- | --- |
| NCV7381B0V2GEVB | Active | | FlexRay® Transceiver, Clamp 30 Evaluation Board | |
| NCV7381BGEVK | Active | | FlexRay® Transceiver, Clamp 30 Evaluation Kit | |
Case Outline
NCV7340D12R2G
Active, Not Rec

AEC Qualified
PPAP Capable
Pb-free
Halide free

CAN Transceiver, High Speed, Low Power, Level Wake-up, Improved
SOIC-8
751AZ
2
260
Tape and Reel
3000
NCV7340D13R2G
Active, Not Rec

AEC Qualified
PPAP Capable
Pb-free
Halide free

CAN Transceiver, High Speed, Low Power, Level Wake-up, EMC/ESD Improved
SOIC-8
751AZ
2
260
Tape and Reel
3000
NCV7340D14R2G
Active

AEC Qualified
PPAP Capable
Pb-free
Halide free

CAN Transceiver, High Speed, Low Power, Edge Wake-up, EMC/ESD Improved
SOIC-8
751AZ
2
260
Tape and Reel
3000
Contact Sales Office
| | | |
| --- | --- | --- |
| Market Leadtime (weeks) | : | Contact Factory |
| PandS (2020-04-02) | : | <1K |
| | | |
| --- | --- | --- |
| Market Leadtime (weeks) | : | Contact Factory |
| | | |
| --- | --- | --- |
| Market Leadtime (weeks) | : | Contact Factory |
Product
Description
Pricing ($/Unit)
Compliance
Status
Data Transmission Standard
Data Rate
Number of Drivers
Number of Receivers
VCC Min (V)
VCC Max (V)
tPLH Max (µs)
IO Max (µA)
IIH Max (mA)
Package Type
Case Outlines
751AZ
Packages