The document you are trying to download is gated.
Log into MyON to proceed.
NCN5193: HART CMOS Modem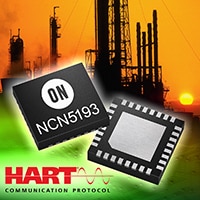 The NCN5193 is a single-chip, CMOS modem for use in highway addressable remote transducer (HART) field instruments and masters. The modem and a few external passive components provide all of the functions needed to satisfy HART physical layer requirements including modulation, demodulation, receive filtering, carrier detect, and transmit-signal shaping. In addition, the NCN5193 also has an integrated DAC for low-BOM current loop slave transmitter implementation. The NCN5193 uses phase continuous frequency shift keying (FSK) at 1200 bits per second. To conserve power the receive circuits are disabled during transmit operations and vice versa. This provides the half-duplex operation used in HART communcations.
Features
Benefits

Optimal for Intrinsically Safe Applications

Single-chip, Half-duplex 1200 Bits per Second FSK Modem

Bell 202 Shift Frequencies of 1200 Hz and 2200 Hz

Transmit - signal Wave Shaping

Receive Band - pass Filter

Internal Oscillator Requires 460.8 kHz, 920 kHz or 1.8 MHz Crystal or Ceramic Resonator

Integrated 16 bit Sigma-Delta DAC

Meets HART Physical Layer Requirements

Industrial Temperature Range of -40°C to +85°C

Available in 32-pin NQFP Package

These are Pb-Free Devices

1.8 V - 3.5 V Power Supply

Compatible with 1.8 V or 3.3 V Microcontroller
Applications
HART Multiplexers
HART Modem Interfaces
4-20 mA Loop Powered Transmitters
Technical Documentation & Design Resources
Evaluation/Development Tool Information
| Product | Status | Compliance | Short Description | Action |
| --- | --- | --- | --- | --- |
| NCN5193GEVB | Active | | HART CMOS Modem Evaluation Board | |
| | | |
| --- | --- | --- |
| Market Leadtime (weeks) | : | Contact Factory |
| ON Semiconductor (2020-09-02 00:00) | : | 61,000 |
Product
Description
Pricing ($/Unit)
Compliance
Status
Data Transmission Standard
Data Rate
Number of Drivers
Number of Receivers
VCC Min (V)
VCC Max (V)
tPLH Max (µs)
IO Max (µA)
IIH Max (mA)
Package Type