The document you are trying to download is gated.
Log into MyON to proceed.
NCN5120: KNX Transceiver for Twisted Pair Networks - NOT RECOMMENDED FOR NEW DESIGNS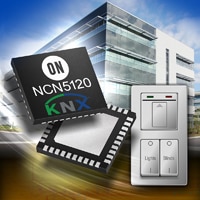 This device is not recommended for new designs. Please consider using
the pin-to-pin replacement NCN5121
instead.
The NCN5120 is the first IC from ON Semiconductor's family of KNX transceivers, handling the transmission and reception of data on the bus. It integrates a 20 V regulator and two high efficient DC-DC converters generating a fixed 3.3 V and a selectable 3.3 to 21 V regulated voltage from the bus with 100 mA drive capability each. This transceiver is ideal for high power applications and has been designed to reduce the bill of materials while supporting safe and reliable coupling to the bus thanks to features such as selectable current slope, bus voltage and temperature monitoring.
Features
Benefits

KNX certified EIB transceiver with embedded PHY and MAC layers (TP1-256)

High level of integration, minimal BOM cost

KNX communication speed of 9600 Bauds

Enables high power KNX applications to be connected and supplied from the KNX bus

Two high efficient DC-DC converters generating board supply:
- DC-DC1 : fixed 3.3 V
- DC-DC2 : adjustable between 3.3 and 21 V

While designed to offer unique features for most advanced KNX systems, its flexiblity also simplifies integration into legacy designs.

Configurable fan-in model (up to 2 virtual nodes) and current slopes

Supervision of KNX bus voltage

Control and monitoring of the DC-DC converters

Configurable amount of repetition

Buffering of sent data frames

Optional auto acknowledge

Selectable UART/SPI interface and baud rate to Host Controller

Comprehensive clocking system
- Operates with industry standard low cost 16 MHz quartz
- Can generate 8/16 MHz clock for the external MCU

Operating temperature range -25 C to +85 C
Applications
End Products

In-home automation
Building automation

Smart lighting & switches
Ventilation and air conditioning
Thermostats
Alarms and smoke detectors
Technical Documentation & Design Resources
Case Outline
NCN5120MNTWG
Active, Not Rec
KNX Transceiver for Twisted Pair Networks - NOT RECOMMENDED FOR NEW DESIGNS, KNX Transceiver for Twisted Pair Networks
QFN-40
485AU
3
260
Tape and Reel
3000
| | | |
| --- | --- | --- |
| Market Leadtime (weeks) | : | Contact Factory |