The document you are trying to download is gated.
Log into MyON to proceed.
MC100EPT622: Translator, 10-bit LVTTL / LVCMOS to LVPECL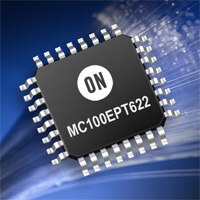 The MC100EPT622 is a 10-Bit LVTTL/LVCMOS to LVPECL translator. Because LVPECL (Positive ECL) levels are used, only +3.3 V and ground are required. The device has an OR-ed enable input which can accept either LVPECL (ENPECL) or TTL/LVCMOS inputs (ENTTL). If the inputs are left open, they will default to the enable state. The device design has been optimized for low channel-to-channel skew.
Features

450 ps Typical Propogation Delay

Maximum Frequency > 1.5 GHz Typical

Operating Range: VCC = 3.0 V to 3.8 V with VEE = 0 V

PNP LVTTL Inputs for Minimal Loading

Q Outputs Will Default HIGH with Inputs Open

The 100 Series Contains Temperature Compensation
Technical Documentation & Design Resources
Case Outline
MC100EPT622FAG
Active
Translator, 10-bit LVTTL / LVCMOS to LVPECL
LQFP-32
2
260
Tray JEDEC
250
Contact Sales Office
MC100EPT622MNG
Active
Translator, 10-bit LVTTL / LVCMOS to LVPECL
QFN-32
488AM
1
260
Tube
74
Contact Sales Office
| | | |
| --- | --- | --- |
| Market Leadtime (weeks) | : | 2 to 4 |
| PandS (2020-05-24 00:00) | : | <100 |
| | | |
| --- | --- | --- |
| Market Leadtime (weeks) | : | Contact Factory |
Product
Description
Pricing ($/Unit)
Compliance
Status
Channels
Input Level
Output Level
VCC Typ (V)
fMax Typ (MHz)
tpd Typ (ns)
tR & tF Max (ps)
Package Type
Case Outlines
488AM
Packages