The document you are trying to download is gated.
Log into MyON to proceed.
NBSG14: SiGe Clock / Data Fanout Buffer, 1:4 Differential, 2.5 V / 3.3 V, with RSECL Outputs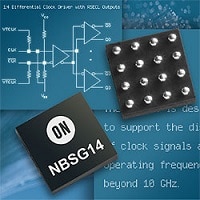 The NBSG14 is a 1-to-4 clock/data distribution chip, optimized for ultra-low skew and jitter.
Inputs incorporate internal 50-ohm termination resistors and accept

NECL (Negative ECL), PECL (Positive ECL), LVTTL, LVCMOS, CML, or LVDS. Outputs are RSECL (Reduced Swing ECL), 400 mV.
Features

Maximum Input Clock Frequency up to 12 GHz

Maximum Input Data Rate up to 12 Gb/s Typical

50 Ω Internal Input Termination Resistors

30 ps Typical Rise and Fall Times

125 ps Typical Propagation Delay

RSPECL Output with Operating Range: V = 2.375 V to 3.465 V with VEE = 0 V

RSNECL Output with RSNECL or NECL Inputs with Operating Range: VCC = 0 V with VEE = -2.375 V to -3.465 V

RSECL Output Level (400 mV Peak-to-Peak Output),

Compatible with Existing 2.5 V/3.3 V LVEP, EP, and LVEL Devices
End Products
ATE Instrumentation, Networking
Technical Documentation & Design Resources
Case Outline
NBSG14MNG
Lifetime
SiGe Clock / Data Fanout Buffer, 1:4 Differential, 2.5 V / 3.3 V, with RSECL Outputs
QFN-16
485G-01
1
260
Tube
123
NBSG14MNR2G
Lifetime
SiGe Clock / Data Fanout Buffer, 1:4 Differential, 2.5 V / 3.3 V, with RSECL Outputs
QFN-16
485G-01
1
260
Tape and Reel
3000
| | | |
| --- | --- | --- |
| Market Leadtime (weeks) | : | Contact Factory |
| PandS (2020-07-06 00:00) | : | In Stock |
| | | |
| --- | --- | --- |
| Market Leadtime (weeks) | : | Contact Factory |
Case Outlines
485G-01
Packages