The document you are trying to download is gated.
Log into MyON to proceed.
NB4N121K: Clock Fanout Buffer, 1:21 Differential, 3.3 V, with HCSL Level Output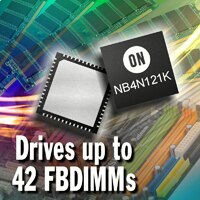 The NB4N121K is a Clock differential input fanout distribution 1 to 21 HCSL level differential outputs, optimized for ultra low propagation delay variation. The NB4N121K is designed with HCSL clock distribution for FBDIMM applications in mind. Inputs can accept differential LVPECL, CML, or LVDS levels. Single-ended LVPECL, CML, LVCMOS or LVTTL levels are accepted with the proper VREFAC supply (see Figures 5, 10, 11, 12, and 13). Clock input pins incorporate an internal 50 ohm on die termination resistors.
Features
Benefits

Typical Input Clock Frequency 100, 133, 166, 200, 266, 333 and400 MHz

Meets wide range of FBDIMM bus frequencies

<1 ps RMS Additive Clock jitter

Best in class for jitter performance

Operating Range: VCC = 3.0 V to 3.6 V with VEE = 0 V

Ensures operation in the majority of designs

340 ps Typical Rise and Fall Times

800 ps Typical Propagation Delay tPD 100 ps Maximum Propagation

Delta tPD 100 ps Maximum Propagation Delay Variation Per Each Differential Pair

Differential HCSL Output Level (700 mV Peak-to-Peak)
Applications
End Products

FBDIMM Clock Distribution
PCIe I, II, II
Networking
Clock Distribution
High End Computing

FBDIMM Memory Support
Servers
Routers
Technical Documentation & Design Resources
Case Outline
NB4N121KMNR2G
Active
Clock Fanout Buffer, 1:21 Differential, 3.3 V, with HCSL Level Output
QFN-52
485M
1
260
Tape and Reel
2000
Contact Sales Office
| | | |
| --- | --- | --- |
| Market Leadtime (weeks) | : | 13 to 16 |
Product
Description
Pricing ($/Unit)
Compliance
Status
Type
Channels
Input / Output Ratio
Input Level
Output Level
VCC Typ (V)
tJitterRMS Typ (ps)
tskew(o-o) Max (ps)
tpd Typ (ns)
tR & tF Max (ps)
fmaxClock Typ (MHz)
fmaxData Typ (Mbps)
Package Type