The document you are trying to download is gated.
Log into MyON to proceed.
NB3F8L3010C: Clock / Data Fanout Buffer, 3:1:10 Differential, LVCMOS, 3.3 V / 2.5 V / 1.8 V / 1.5 V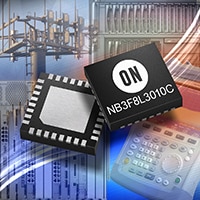 The NB3F8L3010C is a 3:1:10 Clock or Data fanout buffer operating on a 3.3 V or 2.5 V Core VDD and a flexible 3.3 V or 2.5 V or 1.8 V or 1.5 V VDDO supply which must be equal or less than VDD.
Features

Ten CMOS / LVTTL Outputs up to 200 MHz

Differential Inputs Accept LVPECL, LVDS, HCSL, or SSTL

Crystal Oscillator Interface

Crystal Input Frequency Range: 10 MHz to 40 MHz

Output Skew: 10 ps Typical

Additive RMS Phase Jitter @ 125 MHz, (12 kHz 20 MHz): 0.03 ps
(Typical)

Synchronous Output Enable

Output Defined Level When Input is Floating

Pure 3.3 V or 2.5 V Operating Mode, 3.3 V Core with 2.5 V/1.8 V/1.5 V Output Supply; or 2.5 V Core with 1.8 V/1.5 V Output Supply.
Applications
End Products

Wireless and Wired Infrastructure
Networking and Data Communications
High-End Computing
Clock Distribution

Ethernet Switches / Routers
Servers
Test and Measurement
ATE
Technical Documentation & Design Resources
Case Outline
NB3F8L3010CMNG
Active
Clock / Data Fanout Buffer, 3:1:10 Differential, LVCMOS, 3.3 V / 2.5 V / 1.8 V / 1.5 V
QFN-32
488AM
1
260
Tube
74
Contact Sales Office
NB3F8L3010CMNR4G
Active
Clock / Data Fanout Buffer, 3:1:10 Differential, LVCMOS, 3.3 V / 2.5 V / 1.8 V / 1.5 V
QFN-32
488AM
1
260
Tape and Reel
1000
Contact Sales Office
NB3F8L3010CMNTWG
Active
Clock / Data Fanout Buffer, 3:1:10 Differential, LVCMOS, 3.3 V / 2.5 V / 1.8 V / 1.5 V
QFN-32
488AM
1
260
Tape and Reel
1000
Contact Sales Office
| | | |
| --- | --- | --- |
| Market Leadtime (weeks) | : | 2 to 4 |
| ON Semiconductor (2020-08-12 00:00) | : | 666 |
| | | |
| --- | --- | --- |
| Market Leadtime (weeks) | : | Contact Factory |
| | | |
| --- | --- | --- |
| Market Leadtime (weeks) | : | Contact Factory |
Product
Description
Pricing ($/Unit)
Compliance
Status
Type
Channels
Input / Output Ratio
Input Level
Output Level
VCC Typ (V)
tJitterRMS Typ (ps)
tskew(o-o) Max (ps)
tpd Typ (ns)
tR & tF Max (ps)
fmaxClock Typ (MHz)
fmaxData Typ (Mbps)
Package Type