EZAIRO 7150 SL: Audio Processor, Wireless-Enabled DSP for Hearing Aids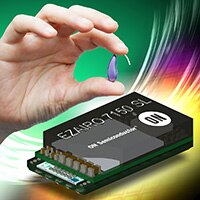 Enabling wireless connectivity in hearing aids, Ezairo® 7150 SL is an open-programmable DSP-based hybrid module that supports Bluetooth® low energy technology and other 2.4 GHz wireless protocols.
What's Included in Ezairo 7150 SL
Ezairo 7100 Digital Signal Processor (DSP): Includes a high precision, quad-core architecture that delivers 375 MIPS without sacrificing power consumption.
Radio IC: Powerful wireless transceiver to support Bluetooth low energy technology and proprietary 2.4 GHz protocols
EA2M: 2 Mb EEPROM memory for storing important hearing aid parameters and firmware
Development Tools
Ezairo Preconfigured Suite
Open-Programmable Evaluation & Development Kit (EDK)
To access Ezairo-based development tools, please contact your Sales Representative or Authorized Distributor.
Please note that Ezairo 7150 SL is not recommended for new designs. Instead, we recommend the Ezairo 7160 SL wireless-enabled DSP for Hearing Aids.
Features

Advanced Wireless Functionality: Supports Stereo Audio Streaming, Control Over Bluetooth Low Energy (CoBLE). Wirelessly control hearing aid features from smartphones, and stream audio from external sources (e.g., smartphones, televisions) through a remote dongle.

Ultra-Low Power Consumption: 1090 µA while running the Ezairo Pre Suite firmware bundle at 10.24 MHz with all algorithms active.

Ultra-Miniature: Integrates Ezairo 7100 DSP, radio IC, 2 Mb EEPROM memory, and necessary passive components into one single hybrid module to minimize overall system size.

Flexible Programmability: Open-programmable DSP-based system can be customized to the specific signal-processing needs of any manufacturer. Modify or add new algorithms or features without making changes to the chip.

Quad-Core Architecture: Industry's most integrated, flexible, and power efficient single-chip solution. Features a CFX DSP, HEAR Configurable Accelerator, ARM® Cortex®-M3 processor, and programmable Filter Engine.

Ultra-High Audio Fidelity: Provides 85 dB system dynamic range with up to 110 input signal dynamic range to preserve a more detailed sound.

Configurable System Clock Speeds: Twelve clocking speeds to maximize computing performance versus power consumption.

Low Audio Delay: Programmable Filter Engine supports 0.044 ms audio delay.
Applications
End Products

Wireless Connectivity
Audio Processing
Stereo Audio Streaming
Control Over Bluetooth Low Energy
Technical Documentation & Design Resources
Case Outline
E7150-102A49-AG
Active, Not Rec
EZAIRO 7150 SL, System-in-Package (SiP), 250/Tape & Reel
SIP-49
4
240
Tape and Reel
250
| | | |
| --- | --- | --- |
| Market Leadtime (weeks) | : | 13 to 16 |
| ON Semiconductor (2020-09-02) | : | 500 |