The document you are trying to download is gated.
Log into MyON to proceed.
LC823430TA: Audio Processing System for MP3 Recording and Playback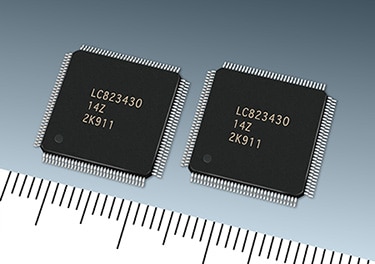 LC823430TA is an audio processing system for MP3 record and playback devices. It integrates a DSP for digital signal processing, and analog blocks such as audio ADC, audio DAC, and speaker and headphone amplifier, in addition to an LCD segment driver.
Features

Supply voltage:
1.3 V (core, etc.),
3.15 V (Audio, USB, etc.)

Maximum operation frequency: 42 MHz (DSP @ 1.3 V)
Applications
End Products

IC Recorder
Audio Player
Home Audio
Technical Documentation & Design Resources
Case Outline
LC823430TA-2H
Last Shipments
Audio Processing System for MP3 Recording and Playback
TQFP-128 / TQFP-128L
932BA
3
260
Tray JEDEC
450
| | | |
| --- | --- | --- |
| Market Leadtime (weeks) | : | Contact Factory |