The document you are trying to download is gated.
Log into MyON to proceed.
NCS8353: Audio Power Amplifier, Class D, Stereo, 20 W/Channel, with Programmable Power Limit and Selectable Gain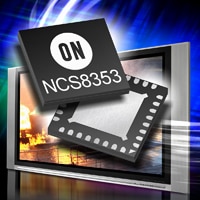 The NCS8353 is a stereo Class D audio power amplifier capable of delivering a continuous power of up to 20 W/ch into an 8Ω bridge tied load (BTL). It can be powered from the existing 24 V rail in Flat Panel Television (FPTV) systems. The high efficiency of the NCS8353 reduces the requirement of an external heat sink when driving high power. The digital power limit feature can program the output power limit at 10W, 12W, 15W, or 20 W/ch, allowing the NCS8353 to be a single system solution in FPTV audio applications. The NCS8353 includes a hard limiter which works in conjunction with the digital power limit feature. The hard limiter quickly reduces the internal gain of the amplifier when high amplitude signals would cause excessive clipping on the output. The NCS8353 minimizes pop and click artifacts in the audio system by reducing voltage and current transients during power supply cycling, entering or recovering from shutdown, and mute. The shutdown feature reduces the quiescent current draw of the amplifier to 100 µA typical. The mute feature ensures that audio is not present at the output during audio source switching. The gain of the NCS8353 is programmed via two gain pins, G0 and G1, allowing four selectable ranges: 20 dB, 26 dB, 32 dB, and 36 dB. Auto recovery short circuit and over temperature protection circuitry are incorporated to ensure device functionality when short circuit and high temperature events are detected.
Features
Benefits

Powered from 8.0 V to 26 V

Includes FPTV backlight supply (24 V)

Allows programmable power limit to 10 W, 12 W, 15 W, 20 W.

Reduces distortion with excessive inputs

Allows system flexibility

Auto-recovery short circuit protection

Device protection against short circuits

Eliminates the need for an external heat sink
| Applications | | End Products |
| --- | --- | --- |
| | | |
Technical Documentation & Design Resources
Case Outline
NCS8353MNTXG
Last Shipments
Audio Power Amplifier, Class D, Stereo, 20 W/Channel, with Programmable Power Limit and Selectable Gain
QFN-32
488AM
1
260
Tape and Reel
2500
| | | |
| --- | --- | --- |
| Market Leadtime (weeks) | : | Contact Factory |
Case Outlines
488AM
Packages